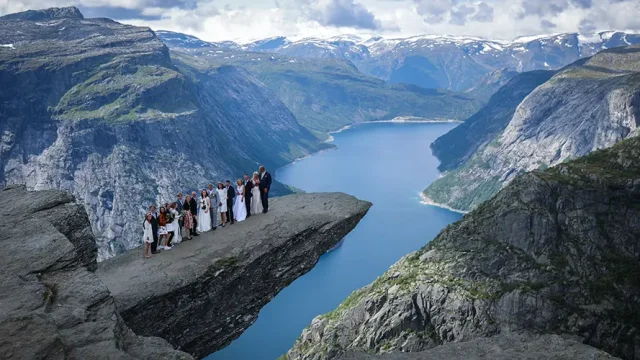 "It will be a day and experience that we will never forget. We were so filled with love hiking to Trolltunga (The troll´s tongue), and we could not imagine a more beautiful setting for our wedding. Norway has exceeded all of our expectations. We loved the entire day and enjoyed traveling around southern Norway for our honeymoon," says Erica Gagne after the epic wedding on Trolltunga.
The Canadian couple started the 10-kilometer hike on foot to reach Trolltunga early Friday morning. By that time, various equipment such as tents and instruments had been transported up in advance to create the perfect setting for the big day. Some of the couples also chose to stay overnight at Trolltunga to turn it into a multi-day experience.
They wanted a unique wedding venue.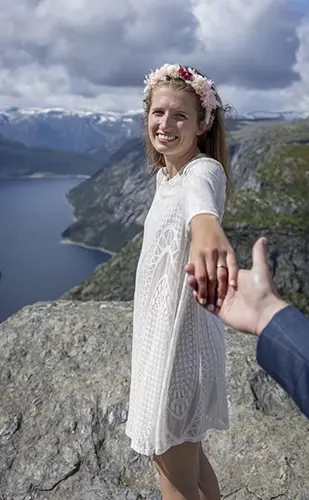 "We were interested in finding a unique destination for our wedding, and this was the first place abroad that we tried, and it worked out right away. The coordinator, Inger, was so helpful and organized as we asked many questions. Mayor Roald and the rest of the team were so welcoming as well. We are used to hiking in cooler climates in Canada, so the weather was a good fit for us," Erica continues.
During the ceremony at Trolltunga, beautiful hardingfele and saxophone music were played by musician Sarah Melkeraaen, and Mayor Roald Aga Haug of Ullensvang had the honor of leading the ceremony, with several hundred curious hikers as the audience.
"It's a day filled with emotions, and people getting married want a memorable wedding. At Trolltunga, you get a memory for life. It was almost a magical atmosphere when I stood a few meters from the edge, beautiful music was playing, and I guided the couples through the liturgy," says Aga Haug, who is responsible for performing public weddings in the municipality.
According to the mayor, the demand for nature based weddings in places like Trolltunga reflects a clear trend and a sign of the modernization of how marriages are conducted. People want to be in nature on one of life's most important and memorable days.
"For people that love traveling and adventure, I think nature weddings will become more popular. Hiking Trolltunga is special alone, and to get married there is something unique and amazing," Erica confirms.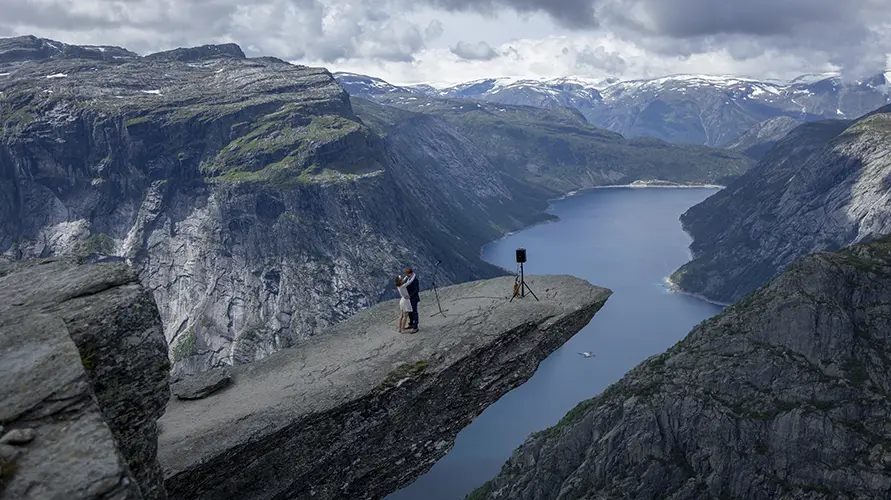 Welcoming more couples
Previously, civil ceremonies were conducted in courthouses in Norway. The decision for municipalities to take over this responsibility was met with resistance in several places. But not in Hardanger and Ullensvang.
"I saw it as a unique opportunity to promote our municipality, and if it could have an impact on local businesses, that would be fantastic. We have many quality restaurants and hotels in our region where you can host receptions and dinners related to these ceremonies and turn it into a fantastic wedding celebration over several days in beautiful Hardanger," says Mayor Aga Haug.
According to the mayor, professional wedding planners from various countries have contacted and shown interest in places like Trolltunga as a wedding venue. Now, the local wedding planners in Ullensvang are ready to welcome couples throughout the year.
"We want to make Hardanger the preferred place for outdoor weddings in beautiful nature," says an optimistic mayor in the Hardanger municipality.