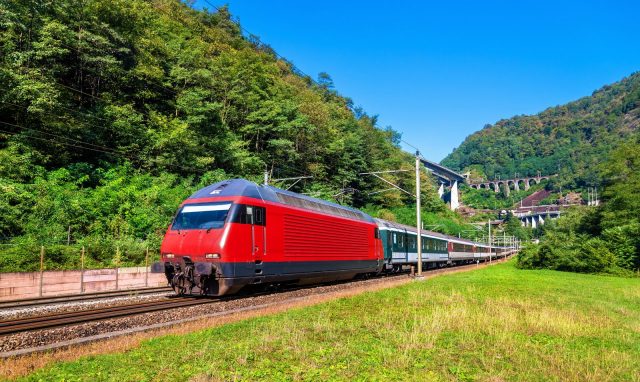 At 57 kilometres the Gotthard Base Tunnel is the longest train tunnel in the world. From the end of 2016, it will take you only 17 minutes to travel this fast flat-track route under the Alpine massif in the heart of Europe.
When it comes to public transport, the Swiss are already world champions. The country possesses the densest public transport network on the planet. And over the years Switzerland has increased its impressive lead over other countries. In 1992 the Swiss electorate overwhelmingly approved construction of the Gotthard Base Tunnel as part of the ambitious New Rail Link through the Alps (NRLA). Some 63% of voters backed the project at the ballot box, laying the cornerstone for more rapid and reliable north-south-north connections extending far beyond the borders of Switzerland.
As a result Swiss cities and regions will come closer together. So too will Switzerland's neighbouring countries. After 17 years of construction work, the end of 2016 will see the tunnel entering into operation – one year earlier than planned. This state-of-the-art Swiss precision project will transport you easier, quicker and more comfortably through the Alps. With more leisure-and-pleasure time to enjoy at your destination.
Facts
Length Gotthard Base Tunnel: 57 kilometres (the longest train tunnel in the world)
Depth inside the mountain: up to 2300 metres rock overlay
Geographic location: north-south-north axis through the Alps – north portal in Erstfeld (Canton Uri), south portal in Bodio (Canton Ticino)
Maximum speed in tunnel: 250 kilometres per hour
Construction time: 17 years
Official entry into scheduled service of the Gotthard Base Tunnel: 11 December 2016
Travel duration through tunnel: approximately 20 minutes
Ceneri Base Tunnel: 5 kilometres, entry into operation December 2020