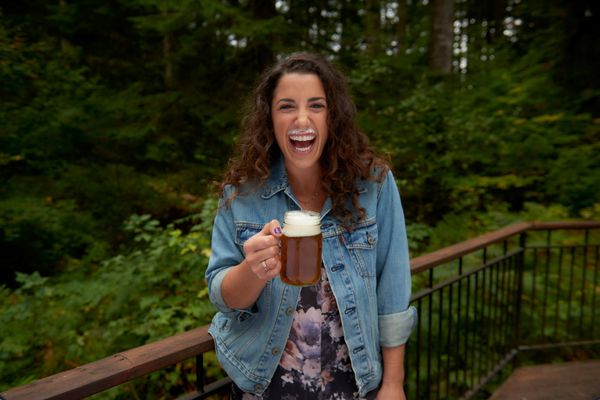 It's no secret that craft beer in Oregon is serious business. There's a new way to celebrate this liquid gold in Oregon's Mt. Hood Territory.  Visitors may download the brand new Mt. Hood Territory Tap Trail mobile passport at omht.us/taptrail. The free year-long passport showcases some of the newest breweries in Mt. Hood Territory, as well as some perennial favorites, with discounts at participating businesses.
In addition to discounts and access to new craft drinks, there's one more passport perk. If you redeem a discount at 10 of the 13 participating businesses within a year, you earn a Mt. Hood Territory Tap Trail stainless steel pint glass.
Be sure to read the rules of the Tap Trail before you go and remember to ask your server to enter the location's unique redemption code in your mobile passport to ensure your discount has been applied to your purchase. Once you have redeemed discounts at 10 locations within a year of your first redemption, stop by the End of the Oregon Trail Interpretive Center in Oregon City during their operating hours to receive your free pint glass.
Sample Coin Toss Brewing's Heritage Beer Series in Oregon City. Then head across the road to where Shattered Oak Brewing and Batch 1 Brewing share a space called "The Hive Taphouse." There, you can try meads, ciders and German-inspired brews. And Bent Shovel's forested barn-house brewery is a hidden gem near the Clackamas River.
To really get in the spirit, head over to Trail Distilling south of Oregon City where they use some ingredients from their own farm, making it the ultimate farm to flask experience.
For the cider lover, try Portland Cider Co. in Clackamas. They have a fantastic selection of creations ranging from sweet to dry, perfect for any palate. 12 Bridge Ciderworks in Oregon City combines their locally sourced juices, spices and all natural ingredients to create unique ciders.
And science geeks won't want to miss Bunsenbrewer in Sandy, the gateway to Mt. Hood. Founded by a biochemist, this brewpub features a playful tasting room with lab tables and stools, a Sound Lab fully-equipped with instruments and plenty of video games.
If you'd like to hit more than one spot a day, we suggest booking a tour through one of our limo companies: Aspen Limo Tours, Twilite Limousine Tours or Northwest Limousine and Town Car. You'll get to each spot safely and in style.
Looking for Beer Lover gift ideas? Check this selection: https://www.groomstand.com/blogs/grooms-playbook/15049341-5-gifts-only-a-beer-lover-will-love