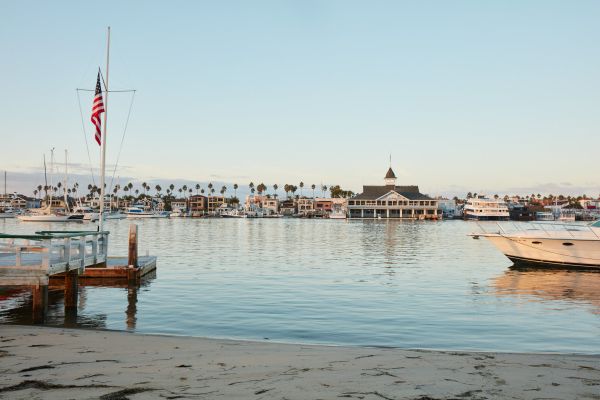 Nestled among golden stretches of pristine Pacific coastline, Newport Beach epitomizes the casual yet sophisticated lifestyle of Southern California. This idyllic seaside destination is widely celebrated for its natural beauty that sets the scene for a vibrant yachting community alongside stylish accommodations, eclectic coastal cuisine, and world-class shopping. Comprised of ten distinct neighborhoods, each lend a unique culture, charm, natural beauty, and history to the city. Ranked among the "Top 10 Resort Towns in the U.S.," Newport Beach is also distinguished as one of the country's "Top 10 Best Family Beaches."
Through the years, Newport Beach has become more than just the coastal getaway for Hollywood insiders and industry titans. With its central location to popular attractions, the sophisticated set can enjoy the respite that sand between one's toes offers and unique accommodations without the touristy crowds. Twenty minutes from Disneyland, an hour south of Los Angeles and an hour and a half north of San Diego, Newport Beach is the perfect hub for a complete Southern California experience.
THE COTTAGES OF CRYSTAL COVE
Crystal Cove State Park's Historic District is a stretch of beach in Southern California's Newport Coast that is home to 24 restored, charming cottages from the 1920s and '30s. The cottages can be rented as an enchanting retreat for visitors who appreciate the opportunity to experience California's natural and architectural beauty, untouched by time. https://crystalcove.org/beach-cottages/
FUN FACT:  The movie Beaches (1988), starring Bette Midler and Barbara Hershey was filmed on this beach and in one of its cottages. This year marks the movies 30th anniversary.
DUFFY BOAT EXPERIENCE
The best way to take in the true essence of Newport Beach is with a narrated boat tour showcasing Newport Beach estates, yachts and sailboats, highlighting celebrity history and a drive-by of John Wayne's home and yacht, The Wild Goose.  Sightseeing and fresh air can work up an appetite allowing you to indulge in the culinary creations of the destination when you Dock & Dine, ie. navigate your watercraft to one of the numerous public and restaurant slips while you take in a bite. Or better yet, get your meal to go and enjoy it onboard as you watch the sunset. www.duffyofnewportbeach.com/
FUN FACT:  Humphrey Bogart and Lauren Bacall spent many happy hours on Bogey's boats moored in Newport Bay.
SHOPPING
Fashion Island:  An open-air shopping destination with views of the Pacific Ocean, this luxury shopping center features anchor stores including Neiman Marcus and Bloomingdale's in addition to a variety of specialty boutiques such as Traditional Jewelers.  Fashion Island also features acclaimed restaurants such as Fleming's Prime Steakhouse & Wine Bar, Sushi Roku, FIG & OLIVE, Red O, CUCINA enoteca, Hopdoddy Burger Bar, Lemonade, True Food Kitchen and R+D Kitchen. www.shopfashionisland.com/
Lido Marina Village:  Artisans, tastemakers, chefs, curators and collectors come together to share their wares and draw inspiration from the sun and the sea. Enjoy al fresco dining waterside, explore a mix of charming boutiques and stylish shops, and experience a delightfully scaled village ambience inviting you to stroll and discover creative details at every turn. www.lidomarinavillage.com/
FUN FACT:  Amazing shopping coupled with fabulous dining makes these locations a favorite stomping ground for the Real Housewives of Orange County.
BALBOA FUN ZONE
Since 1936, the Fun Zone at Balboa Village has been providing affordable entertainment for all ages. With no admission costs, you can stroll the bayside boardwalk and play as you like. Take a relaxing ride on our Ferris Wheel, which offers fantastic views of the Newport Harbor and Pacific Ocean. The Village is one of the state's last surviving examples of great waterfront recreational pavilions.  www.balboavillage.com/about/
FUN FACTS:  The iconic waterside Ferris Wheel was the setting for Childish Gambino's music video and Ryan and Marissa's first kiss from FOX teen drama The OC.  Two famous frozen treats were created on Balboa Island:  the chocolate dipped frozen banana and the Balboa Bar, a block of vanilla ice cream on a stick, dipped in chocolate and your favorite topping.
DINING
From the quaint cafes and boutiques up and down the main streets – like Marine Avenue on Balboa Island – to the upscale restuarants along the waterfront, there is an unmistakable duality to Newport Beach's dining options.
Marche Moderne:  One of Southern California's most celebrated French restaurants from chef-owners Florent and Amelia Marneau, located in the Crystal Cove Shopping Center along Newport Coast. Marché Moderne's truly exceptional cuisine marries classic French cooking techniques with modern sensibilities, along with world-class service and hospitality for an unparalleled dining experience. Guests can enjoy an oceanfront setting, with a new restaurant design concept featuring a stunning exhibition kitchen, an outdoor patio and an expanded bar.
Mastro's Ocean Club: Recognized for their combination of world-class service, highly acclaimed cuisine, and live entertainment in an elegant yet energetic atmosphere. A truly unparalleled dining experience.
Oceanfront 21:  Reminiscent of a grand, turn-of-the-century dining club located in the historical McFadden Building, 21 Oceanfront specializes in classic continental selections offering a wide variety of fresh fish, seafood and prime meats. Complement your elegant oceanfront dining experience with a fine selection of wines from the extensive private wine cellar. 21 Oceanfront Restaurant is recognized as being the most romantic restaurant in Orange County and the best place to watch the sunset.
Nobu: The world's most recognized Japanese restaurant, known for its innovative cuisine and celebrity following, opened its first Orange County location at Lido Marina Village. Designed by a noted Paris -based architect, the restaurant occupies Lido's premier two-story waterfront space at the tip of the Main Deck, featuring incredible views of the Newport Harbor. Enter this breathtaking restaurant from the main Village street or from your Duffy on the harbor side. Nobu Newport Beach at Lido features indoor and outdoor dining experiences, a sushi bar and lounge.
Beachcomber Cafe:  Located right on the sand in Crystal Cove State Park, this charming restaurant is one of the original cottages that has been preserved from the 1920's.  Famous for their beignets and tradition of raising a martini flag every day at 4pm!
Tackle Box:  This quick serve, seafood forward grub shack is owned and operated by Brian Huskey, Top Chef finalist (Season 11).  Located right on the beach, their distinctive menu is comprised of 4 segments:  Sunrise, Grub+Snacks, Rolls and Sides.