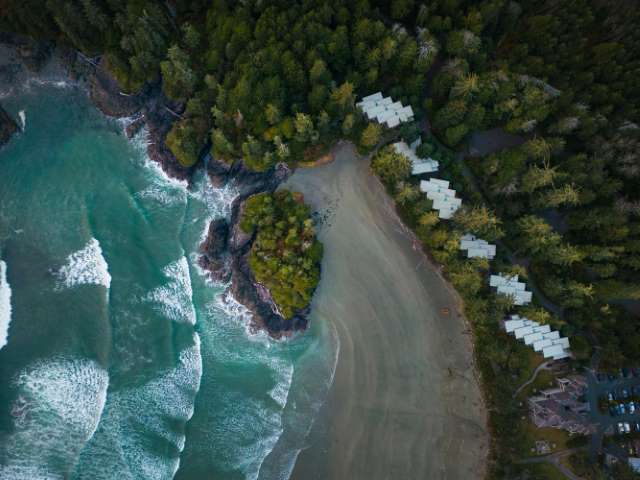 This April, Pacific Sands Beach Resort will commemorate 50 years as a Tofino landmark with $1.2 million investment, exclusive getaway offers, special events and commissioned artwork from renowned Canadian First Nations artist, Roy Henry Vickers.
In April 1973, the Pettinger family acquired the property they would christen Pacific Sands Beach Resort and spent the next four decades on expansions and improvements. Fifty years later, under the ownership of the Nelson family – who took over Pacific Sands in 2015 – the resort's legacy as an escape for family, romance and fun lives on. The Nelson family has invested over $20 million to expand and update the resort. In 2023, a further $1.2 million in improvements will be completed, including eco-focused initiatives such as updating the geothermal system in the Beach Houses.
Guests are invited to attend Pacific Sands events taking place throughout April, including the unveiling of a specially commissioned art piece by Roy Henry Vickers on Saturday, April 15. With Vickers' signature blend of traditional and contemporary styles, the piece will capture the beauty and spirit of the West Coast. Guests can also join a storytelling session where Vickers will share his insights and stories about the inspiration behind his art. Other events throughout April include a 50th anniversary wine tasting and wine release (March 31 and April 1), an Easter egg hunt and complimentary Easter Sunday brunch (April 9).
As part of the celebrations, visitors can enjoy a special discount on a Pacific Sands getaway this spring, helping to disconnect from technology and the relentless pressures of everyday life. Book the resort's Storm Watching Package for any dates in April and save an additional five per cent – which translates to 20-30 per cent off your entire stay.
"From deep and enduring roots in the community to vacations, weddings and sprinkling the ashes of loved ones, we've shared in the lives of friends and families that have been coming to Pacific Sands for generations," said Sabrina Donovan, general manager at Pacific Sands Beach Resort. "Over the years, the resort has evolved and grown, but our underlying mission has remained the same – to offer guests a space where they can unwind and connect with our stunning natural surroundings, with each other, and with themselves."