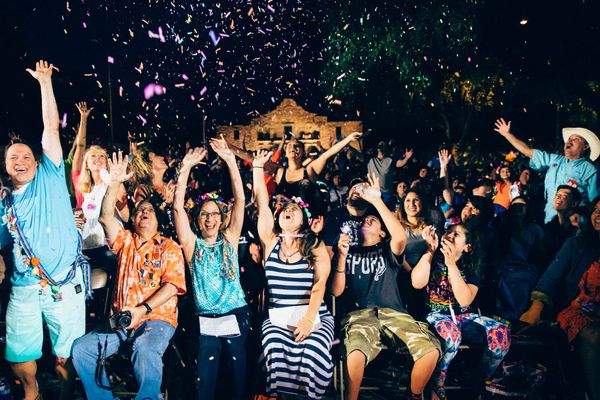 With San Antonio's Tricentennial anniversary coming to a close, the city is gearing up to make 2019 an eventful year in its own right with an impressive roster of major openings and events slated throughout the year.
In addition to being the seventh-largest city in the nation, San Antonio is also one of the fastest growing in the U.S. with approximately 66 people moving to town each day. To keep up with this rapid growth, improvements are constantly being made to appeal to the ever-changing demographic and to always stay current. For the past few years in particular, San Antonio has experienced a renaissance on the culinary, hospitality and cultural fronts as well as gained notable recognitions, such as being named one of only two UNESCO Creative Cities of Gastronomy in the U.S. During this year's Tricentennial celebrations the city continued to evolve to make the next 300 years even better and paving the way for 2019 to be an incredible year.
Here is a preview of some of San Antonio's newest offerings slated for next year, as well as a round-up of some key annual events of particular note to keep in mind:
FAMILY FUN:
San Antonio is one of the leading cities in the U.S. when it comes to attractions and accommodations for families, and for 2019 there are some exciting developments underway:
SEA LIFE Aquarium & LEGOLAND Discovery Center | Early 2019 – Two premier family attractions, SEA LIFE Aquarium and LEGOLAND Discovery Center, are scheduled to open in the Shops at Rivercenter in early 2019. SEA LIFE is the world's biggest aquarium brand and highlights impressive displays of diverse marine life. LEGOLAND Discovery Center will be the ultimate indoor LEGO® playground and will offer a range of themed LEGO play areas, creative workshops with LEGO Master Model Builders, LEGO-themed rides, party rooms for birthdays and other celebrations, as well as the popular MINILAND exhibit which will reflect the buildings and skyline of San Antonio.
SeaWorld & Aquatica San Antonio | Spring 2019 – SeaWorld and Aquatica San Antonio will welcome guests with brand new attractions in spring 2019, including Turtle Reef™, a turtle habitat that will enable guests to get an up-close look at threatened and endangered sea turtles. New family rides will include: Riptide Rescue™, which takes guests on their own sea turtle rescue mission; Sea Swinger™, a thrill ride that swings riders back and forth 180-degrees and Ihu's Breakaway Falls®, a new, one-of-a-kind multi-drop tower slide at Aquatica San Antonio.
Joker Wild Card at Six Flags Fiesta Texas | Summer 2019 – Next summer Six Flags Fiesta Texas will debut The Joker Wild Card, a pendulum ride that will go as fast as 75 miles per hour and soar up to 17 stories high, making it one of the tallest of its kind in the world. The DC Joker theme will be part of the newly announced DC Universe section of the park, and the first new themed area in the park since 1994. WONDER WOMAN Golden Lasso Coaster, the world's first single rail coaster, opened in 2018.
Stand-Up Paddle Boarding on the River Walk – While traditional kayaking has been available along the San Antonio River for some time, now travelers and locals looking to explore the Alamo City from the water can also do so via Stand-Up Paddle Boards. Standing (or sitting) atop surf boards and using paddles for movement, guests float along the historic San Antonio river through the picturesque King William District, historic mansions and beautiful natural scenery. Lessons and professional guided tours are available, and for yogis there is even an option to practice yoga while "on board."
New Tours by Go Rio – San Antonio visitors can now explore the iconic River Walk and learn all about the city with new tours from Go Rio. Colorful, new barges take guests along the San Antonio River through downtown while drivers provide narrated tours and point out unique San Antonio landmarks. GO RIO Shuttles are also available for those looking to go from place to place while exploring San Antonio attractions.
ARTS & CULTURE:
From classic attractions like the River Walk, the Alamo, and the city's historic missions (which are collectively, with the Alamo, a UNESCO World Heritage Site), to a city-wide arts scene including contemporary art spaces such as the Blue Star Arts Complex and notable high-end art museums such as the McNay and San Antonio Museum of Art, there is no shortage of options for travelers interested in history, arts and culture in San Antonio. Here are some new and exciting projects to look forward to for 2019:
Ruby City | 2019 – Slated to open in late 2019, Ruby City will be the latest contemporary art museum to the Alamo City's already thriving arts scene. Designed by award-winning architect Sir David Adjaye, the space is named for its crimson coloring and shimmering facade and will house the late Linda Pace's personal collection of more that 800 paintings, sculptures, installations and video works. Once completed Ruby City will be free and open to the public.
San Pedro Creek Culture Park – Similar to what was successfully accomplished with the San Antonio River decades ago, another one of the city's major water sources, San Pedro Creek, is undergoing a complete revitalization. The first phase was completed in May 2018 and the first segment of the Creek is now open to the public, featuring public art installments, giant commissioned murals and various other attractions. In total, the revitalization will add more than 60,000 linear feet of new walls (including the creek's original, historic 1900s vintage walls), replace eight street bridges and add four miles of walking trails and 11 acres of landscaping. This project will resurrect a major natural resource in the city as well as provide improved water quality, increased biological diversity and a renewed sense of the importance of urban communities and neighborhoods in San Antonio. When the four phases are completed, the San Pedro Creek Culture Park will span 2.2 miles through downtown.
RESTAURANTS, BREWERIES:
San Antonio has especially been making its mark in recent years with a constantly expanding dining scene featuring a wide-roster of gourmet and chef-led restaurants. Additionally, the brewery culture is taking off – again (at one point in history San Antonio housed the most breweries in the state of Texas), and the city is quickly becoming home to an impressive craft brewery scene. Here are a few restaurants and breweries, recently opened or soon-to open, to watch for 2019:
New Culinary Institute of America Restaurant | Spring 2019 – The Culinary Institute of America's San Antonio campus will be debuting its new student-run concept at the city's famed Pearl District in the Spring of 2019. The yet-to-be-named concept will be located adjacent to the CIA campus and will replace the CIA's current restaurant, Nao. Unlike any other restaurant in the San Antonio area, both the kitchen and dining room will double as classrooms. The restaurant's executive chef and maître d' will also be CIA faculty members. The dinner menu will feature ingredients from Texas farmers and ranchers and there will be a full bar and curated wine and beer lists.
The Good Kind | Spring 2019 – Following the success of its first location at San Antonio's Pearl, The Good Kind, a casual dining concept featuring healthy, primarily plant-based cuisine, will be opening a second location in San Antonio's hip Southtown area next spring. The new restaurant will be housed in Ivy Hall, a new mixed-use space currently under construction, and will feature similar offerings of healthy comfort food.
Southerleigh | Spring 2019 – This Texan-Cajun concept restaurant and brewery located in San Antonio's popular Pearl district will soon open a second location at Brooks, one of San Antonio's up-and-coming neighborhoods on the Southeast side of the city (see a write-up on this neighborhood, further down). The new location will feature a unique casual and locally sourced family-style menu, with highlights including fried chicken, gulf seafood and an extensive oyster bar. Food will be served alongside the beloved San Antonio brews Southerleigh is known for, as well as a large selection of wines.
Carnitas Lonja | While already open, this taco shop on the southside of San Antonio is gaining national attention for its authenticity and flavor and is definitely one to watch for 2019, quickly becoming a staple in San Antonio's taco empire. Business at Carnitas Lonja is always packed with good reason. The down home taco shop was recently recognized in Esquire's Best New Restaurants of 2018 list and made Bon Appetit's list of the Top 50 Nominees for Best New Restaurants in America in 2018. The handmade corn tortillas and well-seasoned pork make for some of the best tacos in south Texas, all for around $3. This is a must for taco lovers visiting San Antonio.
Roadmap Brewing | September 2018 – The Alamo City's latest craft brewery, Roadmap Brewing, brings another hip locale serving quality and independent beer to the city's downtown scene of constantly expanding food and drink culture. Run by husband and wife duo Dustin and Hannah Baker there are currently 11 options on tap including an IPA, Coffee Milk Stout, German-style Kolsch and Imperial Stout. Download photos here.
Meadow Neighborhood Eatery and Bar | September 2018 – One of northern San Antonio's newest gourmet, chef-lead restaurants, Meadow features seasonal ingredients and inventive dishes and hearty staples such as biscuits and fried chicken, creamed corn fritters and their popular charcoal grilled ribeye. Owners, Chef PJ and Lindsey Edwards, work together with local farmers to curate the menu. The pair both come from strong restaurant backgrounds: PJ Edwards is formerly of Contigo in Austin and Lindsey was previously part of Jason Dady Restaurants.
HOTELS:
Thompson Hotel | Late 2019 – The Alamo City will soon welcome The Thompson San Antonio Hotel and The Arts Residences. Located within the city's rapidly evolving River Walk and across from the Tobin Center for the Performing Arts, the hotel will consist of a high-rise tower with 162 guestrooms and 58 residences. The project is slated to be completed by late 2019.
TRENDY NEIGHBORHOODS:
New, trendy neighborhoods have been starting to emerge all around San Antonio in recent years. Here are a few key areas that are set to be of particular interest for 2019:
Brooks – Founded on the former Brooks Air Force Base, Brooks is a new, 1,300-acre area of the city offering everything from innovative living spaces to a wide array of restaurants, shops, sites and entertainment and numerous hotels. In 2019 San Antonio star Chef Johnny Hernandez will open two of his popular dining concepts, La Gloria and El Machito. Additionally, Southerleigh, one of the city's most celebrated restaurants, will open its second location here next year. Brooks is also well-known as the homebase of Hangar 9, built in 1918 during World War I and the only wooden aircraft hangar of the 16 that were built at Brooks that remains. It is on the National Register of Historic Places and is a National Historic Landmark, and Brooks is making it a priority to rehabilitate and refurbish Hangar 9 so that future generations can continue to enjoy this impressive piece of history.
Hemisfair – A three-phase major redevelopment project is currently underway in San Antonio's downtown Hemisfair Park (originally built for the 1968 World's Fair), which will ultimately turn the space into a complete urban district with multiple parks, residences, local businesses and a 200-room hotel. The project began in the Fall of 2015 with the opening of Yanaguana Garden, and this year the area has been transformed with a variety of restaurants including CommonWealth Coffeehouse & Bakery, Con Safos Cocina y Cantina, Paleteria San Antonio, and the popular Dough Pizzeria along with an impressive array of green spaces and attractions for children, making it the ideal spot for the entire family.
St. Mary's Strip – This popular entertainment district in midtown San Antonio is quickly becoming one of the best spots in town for mid-priced, authentic and gourmet meals, along with an impressive nightlife scene. The strip saw its heyday in the '80s with weekend crowds that rivaled Austin's 6th Street, and after two decades of turnover and stagnancy, the area has experienced a revival in recent years thanks to an influx of popular, local restaurants and bars such as Chisme, the popular vegan spot La Botanica and Tycoon Flats. Some of the most recent arrivals in the area include Singhs Vietnamese and The Lonesome Rose Honky Tonk & Backyard.
Southtown's Culinary Emergence – Southtown sits at the southernmost tip of San Antonio's historic downtown and is an eclectic arts district set apart by its intermingling of 1800s German architecture, repurposed warehouses, art galleries and now a booming culinary scene. Longtime dining favorites such as Rosarios and the historic Guenther House are now alongside newer eateries such as family-friendly restaurant and bar The Patio Southtown and Battalion, an authentic Italian restaurant housed inside a renovated firehouse. One of the area's latest and most celebrated restaurants is Maverick, featuring a French brasserie-style fare in a warm and contemporary setting.