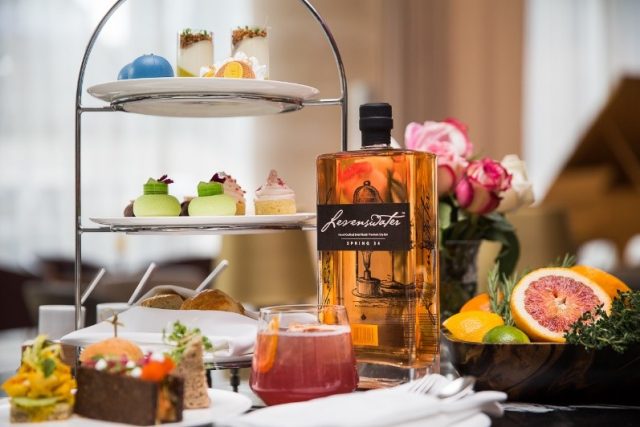 Shangri-La Hotel, Toronto welcomes spring with a Botanical Afternoon Tea in partnership with award-winning Niagara Region artisanal gin producer Levenswater and their carefully-crafted Spring 34 gin. Inspired by the 34 botanicals and aromatics used in the creation of Levenswater Spring 34 and the city's budding taste for gin cocktails, the Botanical Afternoon Tea skillfully incorporates key Spring 34 ingredients such as coriander, lavender, rose, chamomile, cardamom, blood orange and juniper, and is served alongside a Levenswater based cocktail, In-Harmony. Created exclusively by Shangri-La Hotel, Toronto's head barman Chris Rail, the In-Harmony highlights Levenswater's exceptional spring-like aromas by pairing the gin with elderflower, citrus, hibiscus, and bitters.
Shangri-La Hotel, Toronto's Head Pastry Chef, Jolan Thiry, created a selection of pastries for the seasonal tea including a zephyr rosemary pannacotta with apple celery gel, coriander crumbles and poached apple; a juniper berry yogurt mousse and rhubarb compote; and a "French 75" tart with lemon and Spring 34 curd, prosecco and lavender meringue. Featured savories include smoked salmon, avocado and coriander on sourdough black bread and Levenswater-soaked golden sultana scones.
Inspired by the sights, sounds and diversity of Toronto's Kensington Market and the spirit of Ontario, Levenswater Spring 34 features flavor notes of lavender, coriander, rosehips, chamomile and lemongrass created with an innovative and complex distillation and infusion process unlike that of any other Canadian gin.  Designed to deliver an aroma experience separate from the flavor of the gin, Levenswater marries a traditional method of cold compounding with a unique multi-phased approach to infuse their proprietary blend of 34 botanicals and aromatics. Their four-step distillation process balances flavor, color, and aromatics to create an award-winning gin, most recently named "Best Canadian Compound Gin" at the February 2019 World Gin Awards in London, UK.
"Shangri-La hospitality is about creating exceptional experiences for our guests and providing bespoke offerings that add to the element of luxury," said Ron Pellerine, general manager of Shangri-La Hotel, Toronto. "Levenswater is a local, world-class gin producer with a like-minded philosophy, and therefore a natural partner for our Botanical Afternoon Tea."
"We take a lot of pride in the craftsmanship and care that goes into Spring 34, and are excited to showcase our award-winning gin in this unique way," said Paul Allamby, co-founder of Levenswater. "Our gin takes people on an aromatic journey. I'm sure that afternoon tea-goers will appreciate the sensory and taste experience that this Botanical tea offers."
The Botanical Afternoon Tea is available through May 31, 2019, and served daily from 12:00 p.m. to 4:30 p.m. Guests can enjoy the vibrant atmosphere of the Lobby Lounge with live music daily starting at 2:30 p.m. Advanced booking is required. For online reservations please visit www.shangri-la.com/toronto/shangrila/dining/bars-lounges/lobby-lounges/.