Prime Video's The Lake, a comedy about Ontario cottage country and its summertime inhabitants, returns this Summer for its second season on June 9. In season two, you'll see Justin (Jordan Gavaris) and Riley (Travis Nelson) decide to make their relationship official. But their plans, along with the beloved boathouse, go up in flames. Meanwhile, Maisy-May (Julia Stiles) is dealing with a wildfire of her own: the return of her mother Mimsy (Lauren Holly), who claims she's dying and wants to spend her final summer with her family on the lake.
The series is shot throughout Ontario's beautiful cottage country, showcasing hidden Northern gems and Canadian cottage culture on the lakes of North Bay. All the drama takes place with stunning Canadian backgrounds, and it's worth the watch.
Here are some of the best Ontario locations that show up in The Lake S2.  
Trout Lake, North Bay

The heart of the series is located on the grandiose Trout Lake in North Bay, where we see the family come together for chaotic sunset dinners, lake adventures, and much more.
Trout Lake Cottage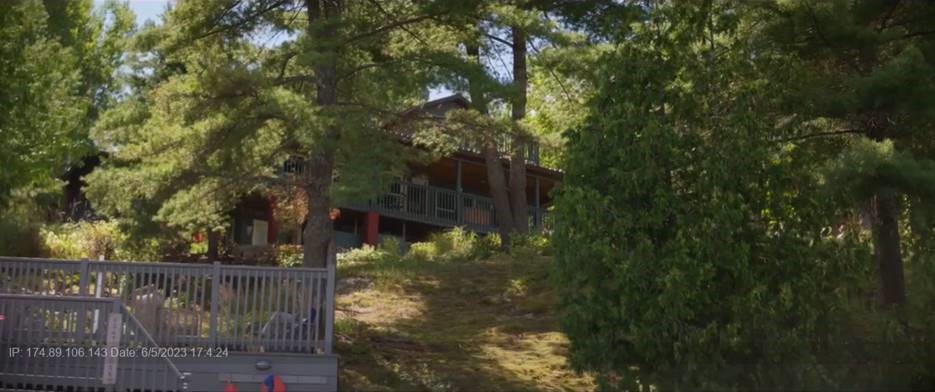 In season two, the family celebrates Justin (Jordan Gavaris) and Riley's (Travis Nelson) wedding at Justin's family cottage, which we know from season one is now infamously owned by stepsister Maisy-May's (Julia Stiles).
Eagle Lake Road

We see Eagle Lake Road make its appearance throughout the season, showing off the long stretch of beach right off Eagle Lake. The season opens with Justin picking up his sister Billie (Madison Shamoun) from the bus stop to begin her summer adventures on the lake, which quickly take a turn. We also see Justin and Riley hit up the Eagle Lake Road food truck for several heated arguments.
Sunridge Boathouse, North Bay

This community centre, or "boathouse" holds some of the most important scenes of the season and acts as the hub for the quintessential drama of the summer. Production built this set on the grounds of a hockey camp in Sundridge, where you also get beautiful shots of Eagle Lake from its shoreline.
Tree Planters Camp, North Bay (Bunting)

When Billie needs to escape her family's drama, she heads to this tree planters camp located in the meadows of Bunting in North Bay.