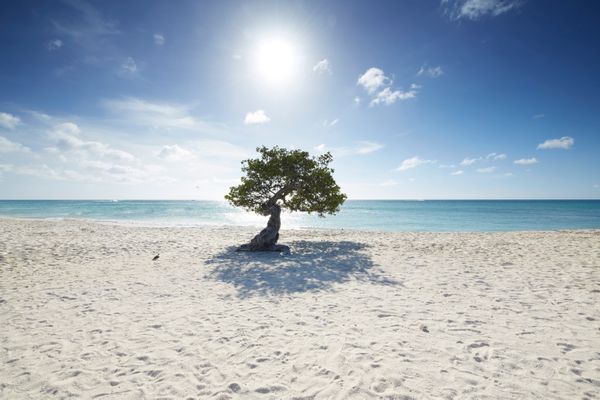 When your essential holiday packing includes your running shoes and gym kit, Aruba is the place to be.
This Dutch Caribbean island with year-round sunshine has a packed calendar of sporting events and invites visitors to take part as well as spectate. From marathons, beach tennis and windsurfing championships to golf and watersports, Aruba has just about everything the fitness fanatic could dream of.
Primarily a destination for fun and relaxation, Aruba also recognises that many travellers enjoy maintaining their fitness regime when on holiday and that many people love the challenge of an event overseas.
The island's sporting year sprints off with the 33rd Aruba International Half-Marathon on Sunday March 25. Attracting competitors from all over the world, this is Aruba's longest road race, covering the length of the island from San Nicolas in the south to capital Oranjestad. The race begins at 5.30am and registration will open in February; go to www.ibisaaruba.com for more information.
Next on the events list is the International Boulevard Race in April. This 10k running race also draws competitors from all over the world and always proves highly popular. Email arruwac@gmail.com for additional information.
The 32nd International Triathlon is staged in June. It includes a 1.5km swim, 40km bike race and 10km run. Beginners can test their endurance in a shorter event of 750m swim, 20km bike race and 5km. Starting at Eagle Beach, close to the some of the island's best resort hotels, the event is on a safe, closed circuit.
Top windsurfers head for Aruba in July for the annual Aruba Hi-Winds tournament, the largest amateur event in the Caribbean. Windsurfing and kite boarding competitions in various categories are held off Hadicurari Beach on the west coast.
A unique way to experience an Aruban sunrise is to take part in the Turibana to Santa Cruz 10k race in September. This open road race begins at 5.30am in the north of the island; registration opens in August and go to www.ibisaaruba.com for more information.
Another popular event for visitors to the island is the so-called Fire Prevention 10k and 5k run, staged to highlight the dangers of fire and starting at the fire station in the village of Tanki Flip in the northwest of the island. It starts at 4pm and registration opens in September. www.ibisaaruba.com
Challenge Aruba Triathlon runs in October, consisting of a 1.9km swim, followed by a 90km cycle and a 21km run.
One of the most popular events is in mid-November when competitors from all over the world head to Aruba for its International Beach Tennis Tournament. It's the premier tournament in the Caribbean, with matches and social events over a hectic week.
For more information about Aruba, go to www.aruba.com