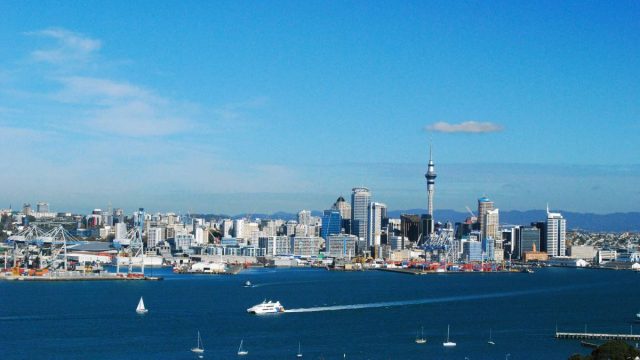 Known as one of the cities with the best quality of life in the entire world, Auckland is quite a city to visit. The biggest city in New Zealand is built on a volcanic field with more than 50 volcanoes to see. The volcanic landscape has created a unique setting in and around the city, with views that are difficult to beat.
It is also home to a wide array of accommodations, from next level luxury hotels to charming, little boutique hotels. With all the options out there, it might be challenging to make a pick. This is why we went ahead with our list of the 10 best luxury hotels in the city of Auckland. The list below will help you plan the perfect trip to New Zealand.
10 Best Hotels in Auckland
With over 1,6 million people living in Auckland, this large city offers hotels in all budget ranges, but the 10 best selected accommodations in this list are known for their luxury. This also means that the prizes fall into the upper range. The list below are our Auckland hotel selections for 2023.
10. Hotel Britomart
A unique getaway, the Hotel Britomart hotel is one of the most incredible hotels we've ever seen so far. The façade is both modern and different from most other hotels we've stayed at, which is also thanks to the handmade bricks and artistic windows incorporated into the building. Hotel Britomart is also a strategic pick if you want to be close to everything, where all the action is happening. This accommodation can be found along the downtown waterfront which is also a place to find the hippest shops, bars, and cafes. Make sure to check out the restaurant in its surroundings as there are some award-winning options. 
9. Cordis, Auckland
Cordis, Auckland by Langham Hospitality Group offers some of the very best views of the city which is one valid reason to stay at this hotel. It is also a 5-star hotel counting more than 17 floors with especially the top floors offering magnificent views. If you want to enjoy more of the skyline make sure to book one of the Club Rooms. These are found in the  Executive Pinnacle Tower, which means you'll be treated with a high-class room and large windows that make you get the most out of sunrises and sunsets.
8. Imagine Beach Road
Imagine Beach Road is best described as a boutique hotel, giving its visitors an unforgettable experience. Imagine Beach Road is also different from the other hotels that made it to our top 10 list of luxury hotels which will be appreciated by many of our readers. Also found in the Central Business District, Imagine Beach Road has a striking name that might make you think of a slightly different location than downtown Auckland. Its location, however, explains why there are so many entertainment options available. Get ready for sophisticated black & white walls, exotic plants and carefully chosen lightning.
7. Airedale Boutique Suites
Airedale Boutique Suites is found in the theatre district, which explains why a classic and modern vibe is blended into what we'd call a boutique hotel. Known for its art deco influences, travellers who opt for this hotel will stay in a place that combines contemporary design with a well-deserved level of comfort. Each of the rooms at Airedale Boutique Suites has its own heating and air conditioning, well packed minibar with local wines and a fast internet connection making this the perfect stop to combine pleasure and business.
6. SO/ Auckland
This is yet another luxurious city hotel that welcomes visitors in the downtown district of the city. Interestingly, SO/ Auckland has found its theme inspiration in Auckland's volcanic surroundings, which is why the rooms come with a local touch as well as splendid views. With the location being as good as they can get in the city, SO/ Auckland is the perfect starting point to head to places like the Princes Wharf, and other hotspots. And if you're in the neighbourhood, we definitely recommend you to check out the restaurants at Harbour Society. This is the perfect place to enjoy the city's best food and wine options.
5. Sofitel Auckland Viaduct Harbour
Sofitel Auckland Viaduct Harbour is the place where luxury is taken very seriously. The excellent facilities offered here include a wellness spa, a premium restaurant, cafe, and a champagne bar. The rooms are very elegant, but at the same time they feel comfortable as well which means that the windows are as big as they can get whilst the same is true for the bathrooms. Those who have stayed at other Sofitel branches around the world might just remember the Sofitel's signature MyBeds which means you'll have the best bed to get a good night's rest. This hotel is within walking distance from the Sky Tower.
4. QT Auckland
Considered one of the finest hotels in Auckland, QT Auckland is a place you'll need to see with your own eyes to actually believe all the luxury that is lined up for you. You might first wonder whether you're in a hotel or an art gallery as the design of this accommodation combines both. The hallway is subtly lit adding to the overall ambiance in all areas of the hotel. The same holds true for the rooms which are extraordinary in their own way. The special thing about this hotel is that even the cheapest rooms are amazing with all the luxury needed to relax and enjoy your stay in the city of Auckland.
3. Ohtel Auckland
Ohtel Auckland is yet another artistic design hotel which in this case means you'll be staying at a five star hotel which means you'll be getting the very best service. As soon as you step inside the lobby you will be treated to Kiwiana artwork and furniture that reminds you of the '50's, ensuring you won't forget about this place any time soon. The rooms are full of items of the past whilst there is also enough room for modern tech such as high-speed Wifi and smart TV's. But if you really want to sit back and relax we suggest you head straight to the magnificent bathtubs that will make you feel part of a classic film.
2. Hotel Grand Windsor
The Grand Windsor is also known for its ambiance which is why you'll enjoy this Art Deco hotel as much as the other venues featured in our 10 list of luxury hotels in Auckland. Tucked away in the Central Business District, so still close to all the prime locations, this is where you'll find fashion, great food menus, an interior that is brightened by all the jewellery, and the very best service. For first-timers in the city of Auckland, the location is just about perfect. This hotel gives tourists the opportunity to enjoy first-class shopping as well as entertainment options including the city's hippest cocktail bars and dining options.
1. Grand by SkyCity
Grand by SkyCity is known for its complete offer of entertainment which is why you can find both a peaceful place to relax as well as a casino and bars to play and party. Grand by SkyCity which explains why it scores so well if we consider the popularity comparison. The 24/7 casino gives visitors the chance to make real money wagers on hundreds of pokie machines, whilst the spa and pool area offer the perfect getaway to find a peaceful sanctuary in this metropolis. Towering above the busy streets of central Auckland, you'll still get an excellent night's sleep, whilst you can take the lift down for the best entertainment. Grand by SkyCity is as grand as the name suggests.