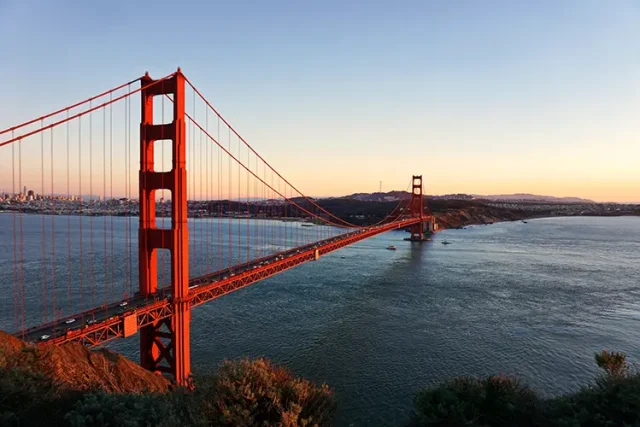 San Francisco: there's something about this glorious foggy abyss of a city. Whether it's the cable cars, iconic landmarks, or the progressive culture of the city that has truly earned its 'World's Best City' title. One thing that's certain is that you'll never regret visiting this techy hipster hangout. If you're planning a trip to this glorious city or you've somehow found yourself here on your travels, here's our best advice on how to explore it properly:
Getting Around
First things first, let's talk about getting around this hilly city. San Francisco has a great public transportation system, including buses, cable cars, and iconic electric trolleys. The Muni system can take you to most major attractions.
However, for a more scenic route, hop on one of the historic cable cars. They'll take you up and down the city's steep hills while providing some picturesque views, though it's worth keeping in mind that the line for cable cars and buses can sometimes be lengthy.
For drivers, there are advantages to renting a car whilst on vacation: complete ease and convenience. We'd highly recommend researching in advance as there are cost-effective solutions like budget discount codes, which enable you to either save directly on the rental or receive coupons for other products/services. 
One thing to keep in mind, though: the SanFran hills aren't for the faint-hearted! If you're not the most confident driver, it's definitely worth looking at the destinations you're planning to visit and getting an idea of the terrain. You may be best asking a friend or fellow traveler to take the driver role instead…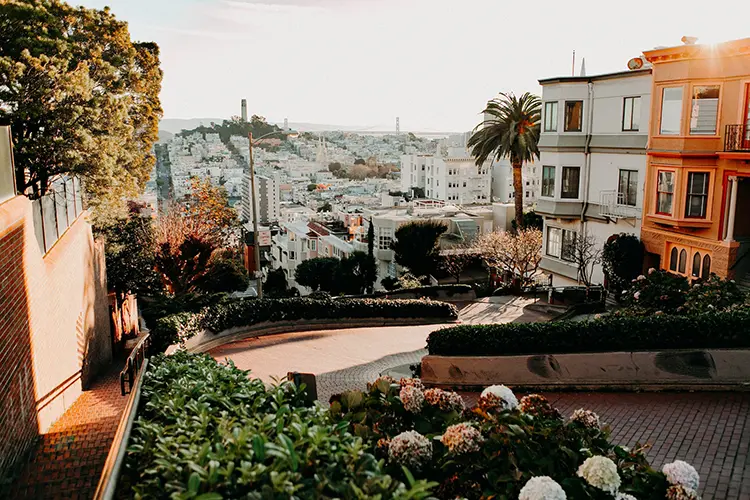 What to Explore
Start your journey at the magnificent Golden Gate Bridge. It's not just an iconic structure; it's a symbol of San Francisco and a testament to exceptional engineering. Once upon a time, an ambitious engineer, Joseph Strauss, first designed the bridge. Unfortunately, it wasn't easy to get the project approved and funded. Luckily, with the help of prominent figures like the city's Chief Engineer, Michael O'Shaughnessy, a bond measure was passed in 1930 to finance the construction.
Work then began on the Golden Gate Bridge in 1933, and the construction process was nothing short of a marvel, especially considering the treacherous waters and strong tides in the strait. It took nearly four years to complete, and since then, it has become one of the most famous and photographed bridges in the world. Despite being an engineering marvel, the bridge also has a charm that just entices people towards it.
When in San Fran, you simply have to visit this bridge to feel the magic.
Next, head to Alcatraz Island, the infamous 'Rock' in the middle of San Fran Bay shrouded with mystery and history. From 1934 to 1963, it housed some of the country's most notorious criminals. Over the decades, Alcatraz's reputation as a maximum-security prison has led to the moniker 'The Rock'.
It's relatively easy to get there as you can take a short ferry ride over from the city. A journey to Alcatraz would you offer you the experience to learn about the infamous inmates and escape attempts – for this, we'd recommend getting a tour guide. It may be worth keeping in mind that the atmosphere can be a little eerie. If you're into happy-go-lucky adventuring, this might be one to avoid or time carefully…
Finally, don't miss out on exploring the neighborhoods. The eclectic Haight-Ashbury district is a must-visit, known for its bohemian vibes and vibrant shops.
Where To Eat
San Fran is a food lover's paradise. Let's start with Fisherman's Wharf, a bustling waterfront area known for its fresh seafood and electric atmosphere. Here, you'll find a plethora of seafood restaurants offering everything from succulent Dungeness crab and buttery lobster to crispy fish and chips. Don't forget to try the famous clam chowder served in sourdough bread bowls – it's a classic San Fran treat!
Now, let's head over to the Mission District, a food haven with a rich Latino influence. This area offers colorful street art, trendy boutiques to buy all your luxury accessories and gifts, and some of the best Mexican food in the city. Here, you'll discover a variety of authentic Mexican taquerias and food trucks serving up mouthwatering tacos, burritos, and quesadillas bursting with flavors and fresh ingredients. It's a must-visit for any taco enthusiast!
If you're a fan of gourmet delights and artisanal treats, the Ferry Building Marketplace is an absolute must. From freshly shucked oysters to gourmet chocolates and organic olive oils, this place will pamper your taste buds and make you fall in love with San Francisco's artisanal food scene. If you need a little more sweet indulgence, head over to Ghirardelli Square, home to the world-famous Ghirardelli Chocolate Company. Treat yourself to their luscious sundaes, milkshakes, and chocolate-dipped strawberries. You'll be in chocolate heaven!
Enjoy Your Time In The Vibrant San Fran
So there you have it, a guide to exploring the foggy city of San Fran, fondly known as the City by the Bay. From the iconic Golden Gate Bridge to the charming cable cars and vibrant Fisherman's Wharf, this city is truly one of its own. So pack the essentials and get ready to fall in love with San Francisco, it's sure to steal your heart from the moment you arrive.