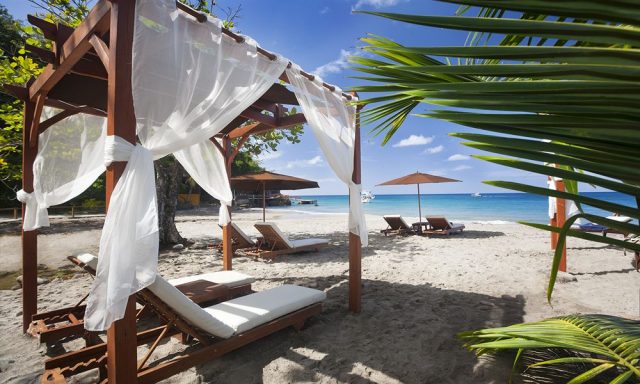 Faithfully watching over the Caribbean Sea from high above an impressive bluff rests one of the most beautiful little resorts in the West Indies. Ti Kaye Village Resort is a newcomer to St. Lucia but fast becoming a fan favorite. Ti Kaye means small house in the native language of St. Lucia. Ti Kaye Village Resort is the ultimate secluded and serene destination and perfect for those looking to escape the breakneck speed of modern life and simply recharge.
The quaint resort village offers comfortable cottages near the main Inn building where the bar, International restaurant with award winning wine list, and fresh water pool can be found; with 33 private rooms that meander lazily down the hillside towards the sparkling Caribbean Sea. Ocean view cottages are further up with oceanfront cottages available nearest the bluff and finally, with a scattering of duplexes available high upon the hilltop. All accommodations are luxuriously appointed with modern conveniences including air conditioning, a private entry and an ocean view. Several duplexes, each holding two rooms, are highest on the hill.
To truly enjoy the area, guests are encourages to stroll down the hillside steps towards the clear blue waters where a private beach cove awaits and a beachside bar and grill for drinks and light food fare, as well as water sports and serene sunbathing.
Overlooking the west coast of the island of St. Lucia, Ti Kaye Village Resort is a panoramic magnificence that once experienced, will never be forgotten.