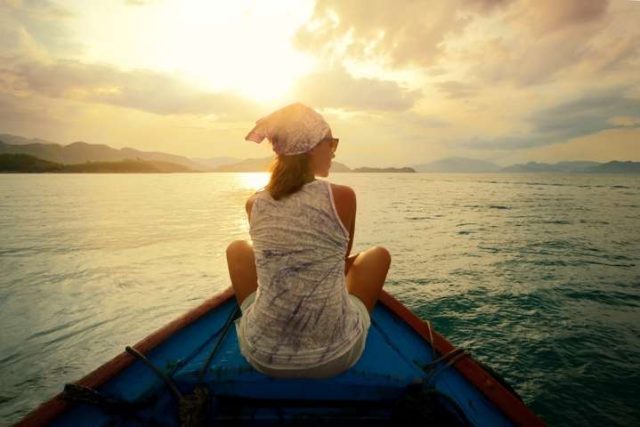 No doubt, many of us are itching to get out and see the wide open world again, especially since pandemic restrictions have somewhat eased. With both domestic and international travel becoming more feasible and accessible for those with a serious case of wanderlust, now is the perfect time to get away and reset.
Whether you're looking to escape abroad for two weeks, spend a week interstate visiting family, or even have plans that are as simple as three days away down the beach or in the country air, taking the time to map out your trip itinerary and travel strategy can help you stay super zen during your time away.
So without further ado, here are some travel-savvy tips to help you get more out of your holidays this year.
Book your accommodation nice and early
One of the best tips to follow for all avid travellers is to research the different accommodation options that are available to you in the lead-up to any planned time off. After you've finalised your leave from work, it's a good rule of thumb to look up Luxury Holidays that may include flights and accommodation, or perhaps even either of these alongside deals on any local attractions at your selected travel destination. 
Organising a travel deal for you and your fellow travel party may also allow you to experience plenty of perks as a guest at your selected accommodation, from free or discounted massages to a seat at the table for the hotel's daily gourmet breakfast. Whether it is a domestic location like Hayman Island or somewhere as exotic as the Maldives, looking into the travel deals that are available to you can potentially help save you a heap during your time away. 
Once you've gotten a good idea of where you'd like to stay and during which time, all that's left to do now is book your tickets and hotel stay nice and early to ensure that you get the best deal possible!
Join loyalty or rewards programmes
If you intend to do a fair bit of travelling this year, it can be wise to join some quality loyalty programmes. Participating in loyalty or rewards programmes like frequent flyer programmes can help you land some seriously competitive discounts on your flights, cheap upgrades to business class, and perhaps even deals or packages for your accommodation if any hotels or resorts have a connection with the airline that you'll be flying with.
There are a wide range of different loyalty or rewards programmes out there as well, which means that you should be able to find one that suits your consumer habits. For instance, you could sign up for a travel-based credit card or even secure points through a rewards programme that lists your local grocery store or supermarket as a participating organisation. By finding a rewards programme that's partnered with your local supermarket, you can rack up points by simply doing your weekly grocery run!
While cashing in on your points may end up feeling like special treatment, this is in truth, the comfort and peace of mind that joining a loyalty or rewards programme can bring you.
Travel during the off-season
Although everyone may love the idea of travelling to Europe or the Pacific Islands during the summer peak, this can actually be the worst time to go, especially if you want to save on travel costs or simply don't want to deal with crowds of other tourists during your time away. The simple truth is that it's best to travel to any selected travel destination during its off season, or at the very least well before or after the region's seasonal tourist peak.
Let's look at an example here. Consider the disparity in the cost of flights for two from Melbourne to Canada in November versus flight costs from Melbourne to New Zealand during that same month. At this time of year, travelling from Australia to Canada usually comes in surprisingly cheaper, costing  $1000 less to travel from Melbourne to Ottawa than simply travelling across the Pacific to Dunedin on New Zealand's South Island. 
You're saving on the price of a 19-hour flight for two versus a 3-hour flight to New Zealand with a connecting domestic, just based on the fact that you are travelling in Canada's autumn, which is just on the cusp of their winter off-season. As you can see by this small example alone, it's infinitely wiser to brave the cooler weather at your selected destination rather than contending with the summer crowds (and the summer prices!).
Never underestimate the power of a short trip
Last but certainly not least, it's important to keep in mind that in some instances, a short trip can be just as good as a longer trip. In fact, sometimes you may find short weekend trips away to be far more conducive to rest and relaxation than week-long international adventures, especially for those travelling with young children. When it comes to travelling more, staying local and heading out on the open road for a shorter period can be a better method than only embarking on epic travels that consist of multiple flights.
Sometimes, it's just our everyday routine that we need a break from, so orchestrating a whole fortnight-long holiday itinerary can feel like unnecessary work when you're just trying to enjoy yourself. Herein lies the danger of over-planning your holiday! If you're stressing out about sticking to your itinerary to the hour or even to the minute in order to cram in everything you'd like to see, then it's not likely that you'll actually get to properly unwind during your time away.
Simply put, don't forget to relax and sometimes go with the flow. Things will work out just as they're supposed to. The most important thing about any time away is that you can actually get the opportunity to truly step away.
~
To sum up, those who are hoping to travel a touch more in 2023 are absolutely encouraged to keep this quick pro tips in mind in order to get the best out of each and every holiday:
Look for and compare the best deals with flights and accommodation – booking in advance has its advantages.
Joining loyalty programmes can get you a few perks and upgrades that can make frequent travel a lot easier (and affordable).
Off-season travel can get you cheap flights, help you beat the tourist crowds, and may even fit around your scheduled downtime at the office.
Short trips that go with the flow can be just as, if not more, rejuvenating than long ones and can save you funds that can then be put towards longer trips away.
So long as you can keep all these tips in mind when planning your holidays in 2023, you'll be likely to have a truly enriching year filled with plenty of travel tales and lifelong memories.