In bygone eras (and long before modern air-conditioning!), travelers would escape hot, crowded cities in summer to retreat to cooler, natural places. These escapes often led to manors, castles or estates set in Canada's most spectacular surroundings. Many of these timeless sanctuaries became beloved members of the Fairmont Hotels & Resorts family.
There's no better time to visit these Canadian gems than in the warm, golden glow of the summer months.
History in the Making: Fairmont Le Château Frontenac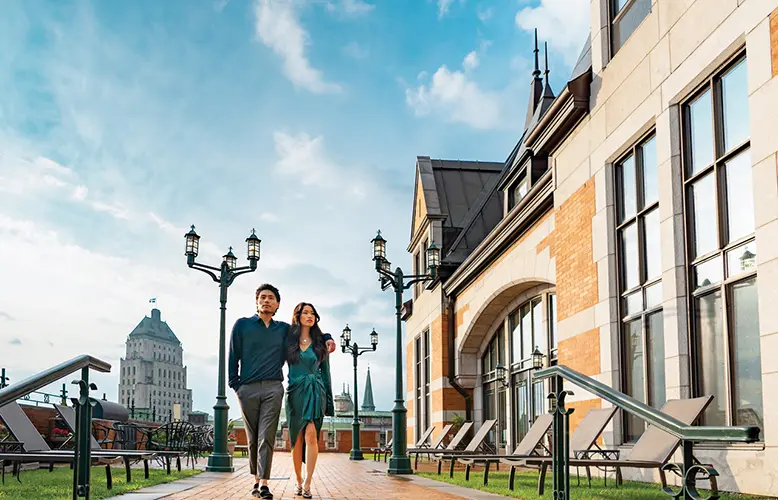 A once-walled fortress that was among Canada's earliest settlements, the Old City of Québec is a UNESCO World Heritage site. At its literal peak, perched to capture panoramic views of the St. Lawrence River, is Fairmont Le Château Frontenac. As renowned for its creature comforts and service as for its unmatched history and location, this hotel won the "2022 Global Hotel of the Year" honor from the World Luxury Awards and was also the global winner in the Luxury Castle Hotel category. A thoroughly modern place to stay, it's Canada's first carbon-neutral historic hotel.
The excellent reputation of the Château Frontenac's cuisine is well established. Choose from among unique experiences in their restaurants: Ultimate gastronomy at Champlain, creative fare and mixology at Sam Bistro, dazzled senses at Place Dufferin, or unparalleled fascination at 1608 Bar.
Whether you're seeking a romantic getaway, an escape to nature, immersion in history or simply relaxation, there's an offer tailored to your stay, including bed and breakfast and Fairmont Gold packages. Best of all, you'll be able to take part in a wide range of hotel activities, from morning yoga to guided walking tours.
Rustic Retreat: Fairmont Le Château Montebello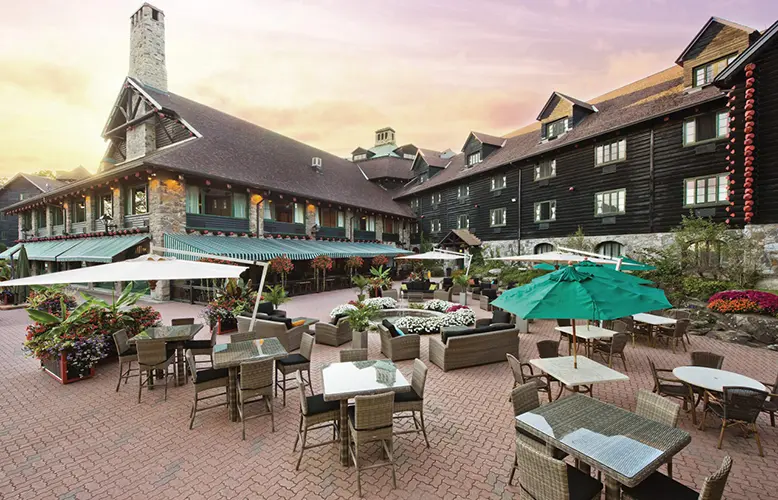 The world's largest log cabin awaits your visit! Fairmont Le Château Montebello is set on 300 acres along the Ottawa River and features its own yacht club. This quintessentially Canadian hotel is best experienced as part of a Summer Fun Package, which lets you enjoy biking, paddling, mini-golf and racket sports on its beautiful grounds. Also included are dining credits that you can use toward the famous terrace barbecue dinner.
For additional pampering, choose a Wellness Package, which provides a choice of treatments and plenty of contemplative relaxation time to soak in the scenery. Golf packages are also available, allowing guests to test their accuracy on the rolling, tree-lined fairways of the resort's historic course, a Stanley Thompson design that dates from 1929.
On the first Sunday of every month, indulge in gourmet regional treats and bottomless mimosas at a grand brunch, served in the immaculate stone-clad, log-terraced hall. The health club, with tennis and squash courts plus a well-equipped gym, is the perfect place to work out and unwind.
Live like an Icon: Fairmont Château Laurier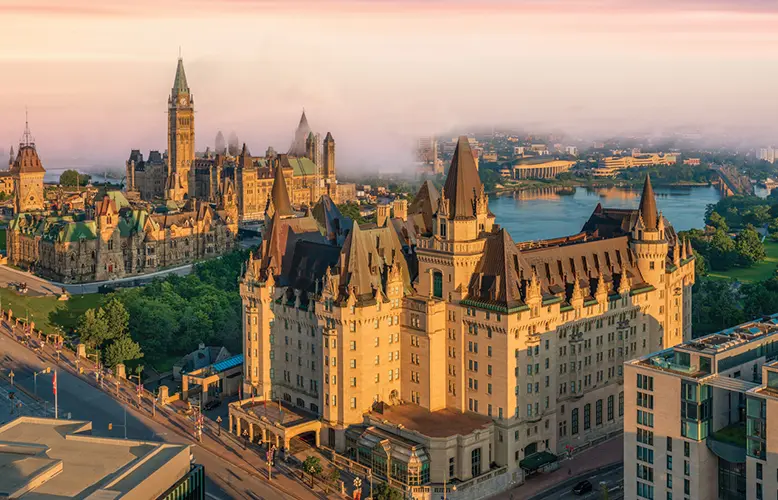 Of all the storied meetings, feasts and events it has hosted, one legendary figure is unforgettably woven into Fairmont Château Laurier history. Famed photographer Yousuf Karsh, creator of fabulous black-and-white portraits of 20th-century icons, lived and made his studio in the Ottawa hotel for nearly 20 years starting in the 1970s. His work still graces some hotel spaces, giving a cosmopolitan, sophisticated air to what was named a National Historic Site in 1980.
Of course, there are numerous other reasons to visit. Create family moments with a package that combines two rooms for the comfort of adults and kids, and visit family-friendly attractions like the mountain coaster at Camp Fortune, just out of town. Or make it a couple's escape, with a Grand Romance Package that promises chocolate-dipped strawberries and sparkling wine on arrival plus breakfast in your room or at Wilfrid's Restaurant.
Treat yourself to Afternoon Tea at Zoe's and relax as generations of Canadians and visitors have: over scones, delicate sandwiches and a steaming cup of Lot 35 tea. Also at the hotel and featuring sweeping vistas of the Canadian Parliament Buildings, the hills of Gatineau Park and the historic Rideau Canal as it joins the Ottawa River, La Terrasse is a popular al fresco dining space where guests can savor their summer afternoons while sampling P.E.I. mussels, sangria and craft cocktails.
Mountain Magic: Fairmont Banff Springs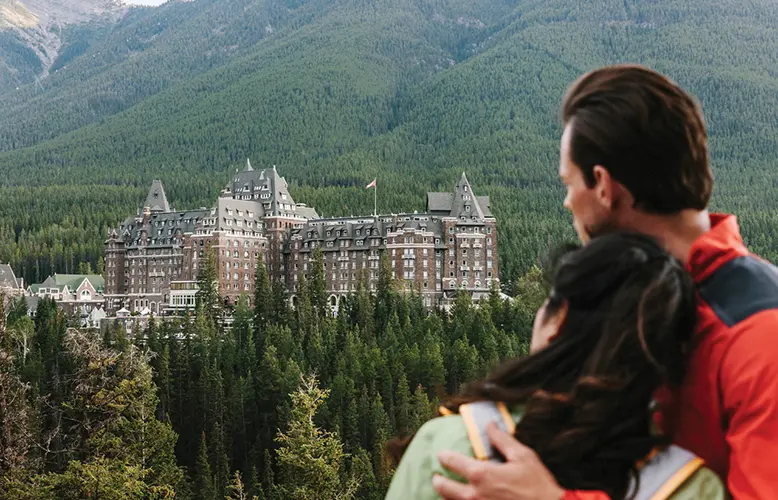 Visitors might associate Banff with world-class downhill and cross-country skiing, but insiders know the mountain town is at its prettiest in summer, when alpine wildflowers are in bloom. A Fairmont Banff Springs golf vacation featuring the Canadian Rockies as the backdrop to every hole is simply unforgettable. And just down the hillside from the historic hot springs, you can indulge in a modern transformative experience with a Spa Package that includes an outdoor whirlpool and daily treatments.
For dinner, choose between European alpine classics at Waldhaus Restaurant, a cabin-style vintage eatery, and famed Alberta beef alongside seasonal cuisine at 1888 Chop House, which also offers a stellar wine list. Or treat yourself to the ultimate private dining experience: a seven-course tasting menu in a clear outdoor dome with spectacular 360° views of Banff National Park.
Queen for a Day: Fairmont Empress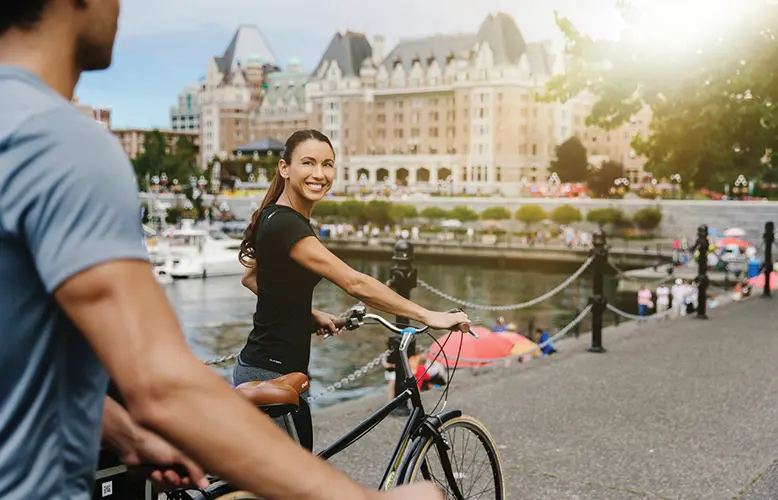 Tucked into the Inner Harbour of Victoria, Fairmont Empress sits as regally as the provincial capital's namesake did. A renowned institution for over a century, the hotel might be most famous these days for its modern cocktail spirit. Empress 1908 Gin, a color-changing concoction that pours indigo from the bottle and turns a vibrant violet when mixed with tonic or citrus, has taken the world by storm. Originally created in collaboration with Fairmont Empress, it contains bespoke botanicals from the hotel's own tea blend. Sip it at Q Bar, a lively and elevated modern lounge that overlooks the water.
This summer, upgrade your stay with their newly renovated Fairmont Gold experience, enjoy lavish Lunch on the Lawn picnics overlooking the Inner Harbour or indulge in Sunset Sips, a grown-up twist on their legendary Afternoon Tea that combines playful tapas and fruity cocktails to create a lively evening experience in the luxurious Lobby Lounge. Cycle or walk around downtown and the Inner Harbour, then take a whale-watching or float-plane tour of the coast. Families can take advantage of the Kids Rule the Castle package, which includes child-centered offerings like activity books, scavenger hunts, and milk and cookies, as well as dining discounts and spacious accommodations.