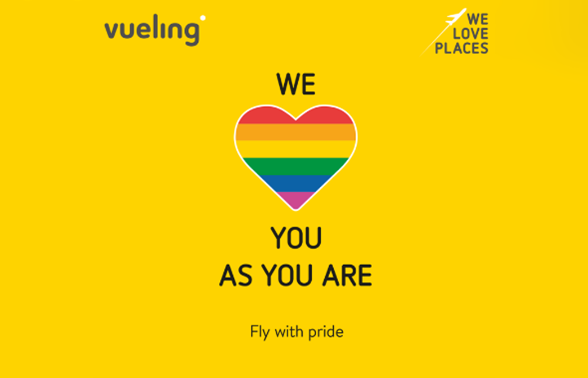 The Pride season is on and to join the celebrations, why not to travel and experience the most gay-friendly cities with spectacular parades and events happening until September.
Vueling becomes the official 2023 airline sponsor of Barcelona Pride and Bilbao Bizkaia Pride
Following the company's announcement as the official airline sponsor of Barcelona Pride and Bilbao Bizkaia Pride, the low-cost carrier joins the celebrations of the LGBTQ+ community connecting people from all over Europe and offering exciting prizes with free flights and discounts. The airline, part of IAG, is a leader in connections to Spain, with some of the most gay-friendly cities in Europe with big Pride celebrations this year taking place in Barcelona (15 July), Valencia (24 June), Seville (24 June) and Bilbao (15 June). The Basque city will host a party with a dozen of boats, which will be sailing the river Nervión passing by the iconic Guggenheim Museum. There are also direct flights available from London Gatwick to other gay-friendly destinations such as Rome (celebrating 25 years of Pride with events taking place from 10 June) and Paris (with the Marche des Fiertés starting on 24 June).
Vueling offers 23 direct routes on sale for the summer season from the UK to Spain and other European destinations. Additional information available on www.vueling.com
Tel Aviv Pride 2023 celebrates 25th Anniversary with biggest Pride weekend yet
Tel Aviv's Pride is the biggest Pride event in the Middle East and one of the biggest in the world. Marking the 25th anniversary of the first Pride festival in Tel Aviv, a huge schedule has been put together for this year's festivities.
As true champions of diversity, Israel ensured no stone went unturned with the planning of this years celebrations that are set to entertain 250,000 visitors this year. To give a snapshot of the diversity of this year's line-up, an international gay beach volleyball tournament on Gordon Beach kicks off proceedings, one evening a Britney Spears impersonator takes to stage and another day the Pride festivities head on over to the Shefayim Water Park for a big splash in the sun – couple this with a further 20+ events over the next 10 days and visitors will see why it has been hailed the biggest Pride celebration ever.
This fun filled festival will culminate with the official Pride parades that occur over the final two days (8-9 June), where visitors will experience the beautiful Tel Aviv promenade exploding with colour, sound, and joy.
For more information, click here
Channel Islands Pride returns to Guernsey in September 2023
Channel Islands Pride returns to Guernsey this year for the annual celebration of diversity and inclusion amongst the LGBTQ+ community. The fun will begin on the 9September with the main event – the traditional yet vibrant Pride parade followed by festival-style music.
Throughout the day visitors can expect fun activities such as a silent disco, a new cabaret stage, headline UK and local acts including drag and music performers, an art exhibition space dedicated to the community, and much more.
For more information on how to enjoy Guernsey's Pride celebrations, visit here
Blossom Buddies: Celebrate Pride Month with Inclusive Art at Avani+ Riverside Bangkok Hotel
Avani+ Riverside Bangkok Hotel is proud to announce its celebration of Pride Month 2023 through a captivating art exhibition titled "Blossom Buddies". The exhibition showcases diverse art by Thai LGBTQAI+ artists, curated by Mr Oat Montien, and explores gender, self-expression, and joy through various mediums.
Visitors can discover thought-provoking pieces, including a hand-painted bridal gown challenging marital norms and a portrait series blending nude human forms with flowers. The exhibition also shares transgender life journeys and challenges societal expectations through creative installations. To complement the exhibition, SEEN Restaurant & Bar is offering a cocktail menu, based on "The Garden of Impermanence", exploring stages of self-discovery. Open throughout June, the exhibition invites all to celebrate diversity.
For more information, visit avanihotels.com/riverside-bangkok