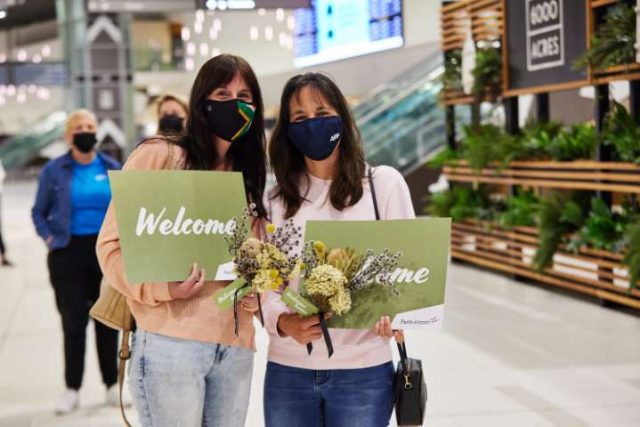 What's New Since March 2020
Western Australia's ancient and beautiful landscape is a place where visitors can disconnect from the everyday and the well-trodden, and reconnect with something unspoiled and a little wild. The destination is home to pristine beaches, rugged gorges, secluded waterfalls – including Australia's only horizontal waterfalls – and one of the world's largest wildflower collections.
Despite border closures in March 2020, the tourism industry in Western Australia continues to develop bringing new accommodations, attractions, and experiences to the state. International visitors can look forward to many firsts during their travels throughout Western Australia this year, including: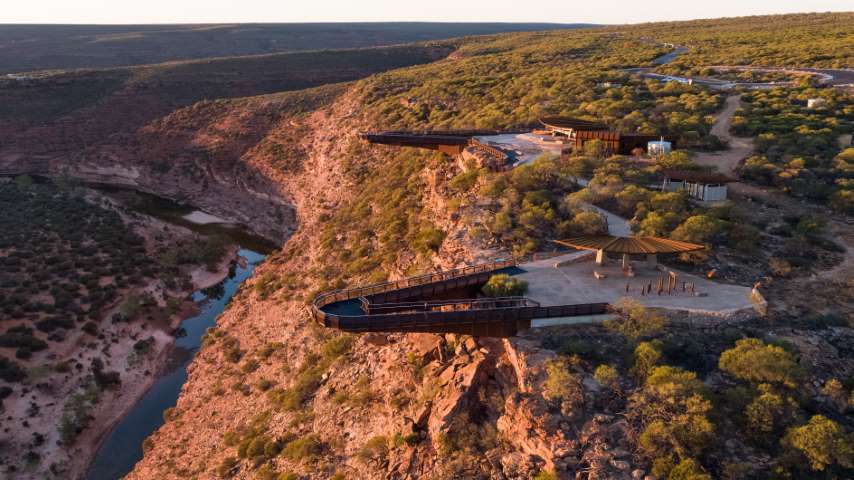 Kalbarri Skywalk (opened June 2020): Offering visitors breathtaking and uninterrupted views over Kalbarri National Park, the 330-feet high skywalk features two cantilevered viewing platforms that extend about 80 and 55-feet beyond the rim of the Murchison River Gorge. Located at West Loop, the $24 million project also showcases the culture and stories of the Nanda Traditional Owners through interpretive and artistic elements. Kalbarri can be reached in a 6.5-hour drive north of Perth as part of a road trip along the 'Coral Coast Highway', or visitors can choose to take a one-hour flight to Geraldton, and reach Kalbarri in just under two hours by car.  
New WA Museum Boola Bardip (opened November 2020): In cosmopolitan Perth, the New WA Museum Boola Bardipopened as a gateway to explore all of Western Australia. The $300 million (USD) project sits on the country of the Whadjuk Nyoongar people, who also inspired the museum's name "Boola Bardip" meaning "stories" in the Nyoongar language. Woven throughout the museum are the stories and perspectives of Aboriginal and Torres Strait Islander peoples. The new WA Museum Boola Bardip includes the restoration of heritage buildings, construction of a new building, a public art project and the design, production and installation of museum content. In January 2022, the museum started offering Nyumbi, a weekly Aboriginal dance performance, and a smoking ceremony for museum visitors to observe. 
Matagarup Bridge Zip+Climb (opened January 2021 and December 2021): The Matagarup Bridge zip line opened to the public on December 5. Similar to the Matagarup Bridge Climb, which opened in January 2021, the zip line adventure starts with guests climbing around 150 steps up the bridge to the launch platform, sitting about 115 feet above Perth's iconic Swan River. Zippers reach speeds of up to 45 miles per hour in an exhilarating ride over the river before landing on the other side of the river at Burswood Park. Evening zip line and climbs are also available, providing guests with a unique experience of Perth city at night.  
Along with new attractions, several new luxury accommodations await visitors to the west coast. Just offshore from Perth, Rottnest Island welcomed Samphire Rottnest in October 2020. The hotel is designed to complement its raw, natural surroundings with 80 spacious guest rooms offering a coastal retreat; private balconies overlooking Thomson Bay; and a sanctuary of lagoon-like pools. South of Swan Valley in the up-and-coming Pemberton wine region, Ampersand Estates opened its cellar doors December 13, 2021. Surrounded by the majestic Donnelly River and the ancient karri forests of Easter National Park, Ampersand Estates is much more than a winery. The Estate is now accepting bookings for its three, private luxury accommodations: the two-bedroom Settlers' Cottage; the Homestead, which features a dining room, large kitchen, and library as well as five ensuite bedrooms; and the Vintner's Residence, which offers five elegant bedrooms overlooking the vineyard. Ampersand Estates is also planning two wedding venues; curated picnics that can be enjoyed across the 130-acre estate; and Rainfall Distillery – Australia's only single harvest distillery – producing vodka and gin using the finest local ingredients.
Seasonal Offerings in Western Australia
March marks the return of whale sharks to Western Australia's Coral Coast region, and there have already been sightings of this majestic creature at the World Heritage listed Ningaloo Reef – the world's largest fringing reef at nearly 200 miles long. Under the guidance of 11 highly accredited, eco-tourism operators, visitors can snorkel and dive with these gentle giants and engage in citizen science and conservation efforts from March-July. Qantas is offering special fares between Perth and Exmouth from now until December 2022 to allow more visitors to experience the natural beauty of this region.
Western Australia's Kimberley region, one of the world's last wilderness frontiers, also kicks off its travel season in April with the end of the wet season. While traveling through the Kimberley this time of year, visitors can look forward to the UNESCO World Heritage listed Bungle Bungle Range, scenic helicopter flights over the Horizontal Falls, enchanting waterfalls,  natural plunge pools, and the Zebedee Springs. Surrounded by avenues of frangipani trees, El Questro Homestead is perched on a clifftop in the Kimberley. Ten cantilevered suites offer enchanting vistas overlooking the Chamberlain River for up to 20 guests at this luxurious, yet relaxed retreat, which opens for the season every April through October.
How to Get to Western Australia
U.S. visitors traveling to Western Australia have the option of flying direct into Australia's east coast or connecting through another international city and flying direct into Perth – Western Australia's capital. For Americans entering Western Australia from Australia's east coast, American Airlines, Delta Air Lines, Hawaiian Airlines, Qantas Airways, and United Airlines offer direct flights from Dallas, Honolulu, Los Angeles, and San Francisco. Upon arrival in either Sydney, Brisbane, or Melbourne, visitors can take a four- or five-hour flight into Perth. Travelers coming from Boston, Chicago, Houston, Los Angeles, New York, Seattle, and Washington, D.C. can also fly into Perth from an international connection on select routes with Emirates, Singapore Airlines, or Qatar Airways.
There are 20 airports throughout Western Australia, including Broome International Airport and Esperance Airport, which allows visitors access to the state's five very diverse geographic regions and key experiences in Perth, the Coral Coast, the North West, the Golden Outback, and the South West region.