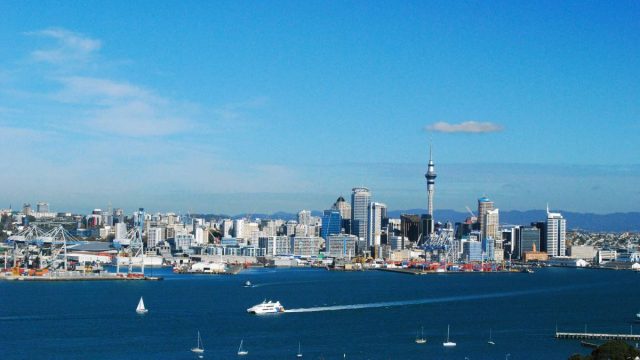 With one of the richest and most unique ecosystems in the world and some truly incredible landscapes, New Zealand is a rapidly growing tourist destination. On an annual basis, almost four million people make the land of the Kiwis their vacation destination.
Almost half of these are Australians, which isn't surprising since the reciprocal Trans-Tasman Travel Arrangement means that visitors from Oz can come and go visa-free. Equally, though the numbers of other nationalities visiting for tourism or business are high too, and the USA and UK rank third and fourth internationally in terms of visits to New Zealand.
So what do you need to know about getting into New Zealand? Fortunately, the rules are pretty straightforward. New Zealand's government splits the world into those eligible for an NZeTA (New Zealand Electronic Travel Authority) and those who require a standard Visitor Visa. Let's look at both in turn, ahead of your visit to the country where The Lord of The Rings was filmed!
Which Nationalities Need an NZeTA to Enter New Zealand?
The citizens of around 60 countries or territories worldwide need an NZeTA to be permitted to enter this country. The NZeTA is mandatory for all sea and air arrivals, including for transit, unless you're exempt.
You apply for your NZeTA online before you travel. When issued, it remains valid for a period of two years and can be used at any time during this period. The NZeTA permits visits of up to three months for all eligible nationalities, except for visitors from the United Kingdom, with Brits permitted to remain for up to 6 months.
The good news for American, Canadian and British travellers, amongst others, is that all these nationalities can apply for this digital entry pass. The full list of eligible countries is:
Andorra
Argentina
Austria
Bahrain
Brazil
Belgium
Brunei
Bulgaria
Canada
Chile
Croatia
Cyprus
Czech Republic
Denmark
Estonia
Finland
France
Germany
Greece
Hong Kong
Hungary
Iceland
Ireland
Israel
Italy
Japan
Korea (South)
Kuwait
Latvia
Liechtenstein
Lithuania
Luxembourg
Macau
Malaysia
Malta
Mauritius
Mexico
Monaco
Netherlands
Norway
Oman
Poland
Portugal
Qatar
Romania
San Marino
Saudi Arabia
Seychelles
Singapore
Slovak Republic
Slovenia
Spain
Sweden
Switzerland
Taiwan
United Arab Emirates
United States of America
Uruguay
Vatican City
Introduced in 2019, the NZeTA system allows New Zealand's government to better see who's coming and going.
Fortunately, an NZeTA is not complicated to get. You apply online and the cost is NZD $9 or NZD $12, depending on whether you apply through the mobile app or via a website. When you apply, you are also charged an environmental fee called an International Visitor Conservation and Tourism Levy (IVL). The IVL is NZD $35, and as such, the full price of the application is NZD $44 or NZD $47. For Americans and Brits, this is around USD $32 or £25 British pounds.
Once you apply, it can take up to three days to get approval, though the vast majority of NZeTAs are awarded within 10 minutes.
It's worth noting that you're required to obtain an NZeTA, even if you're only transitting through New Zealand on your way to another destination. To transit with this digital travel document, you must do so through Auckland International Airport.
Which Countries Require a Visitor Visa to Enter New Zealand?
Meanwhile, two-thirds of the world – or around 135 countries – need what's called a Visitor Visa to enter New Zealand. If you come from a country not listed above, then to get a visa you will need to go through the full application process. Fortunately, nationals of many countries can do this online.
Your first step is to check on the New Zealand Immigration website if you can apply for your Visitor Visa online, or if you need to visit the nearest New Zealand embassy or consulate to make your application.
The documents you'll require to make your application for a Visitor Visa include:
Your passport with at least six months of validity remaining.
The filled-in visa application form.
Recent passport photos that meet the requirements.
Proof of your financial status and that you can support yourself in the country.
Confirmed flight tickets to and from New Zealand, or to an onward destination.
Accommodation bookings.
Character references in some circumstances.
So Get Ready to Travel!
New Zealand is a beautiful and varied country. Fortunately, applying for your NZeTA or Visitor Visa is simple for most visitors, and the fact that so much can be done online makes your preparations far easier too. Make this year the one in which you get an amazing Kiwi welcome for the first time, whether you want to learn more about this country's culture and heritage or perhaps go sailing!