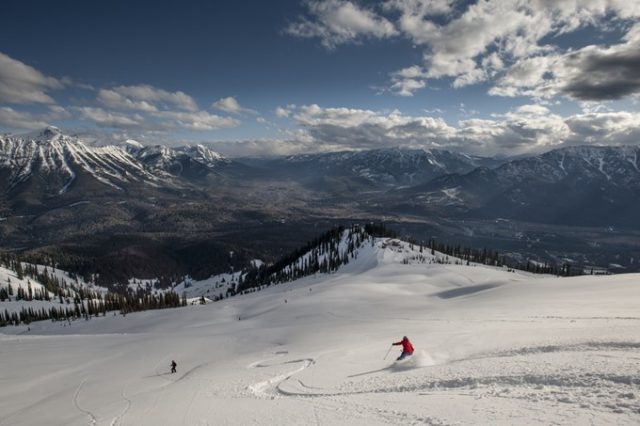 Home to some of the best ski resorts in North America, BC should be a firm fixture on every skier and snowboarder's bucket list. This is the land of the famed Powder Highway, a circular route in the Kootenay Rockies marked by deep snow, funky towns, and adventure-packed mountains. The province also houses the world's best heli-skiing and cat-skiing – including Bella Coola Heli Sports, which has been named the world's best heli-ski operator for the past five years – and the largest ski resort in North America, Whistler Blackcomb, complete with two mountains, 3,306  hectares (8,171 acres) of alpine terrain, and an astonishing average of 10.8 metres (35.5 feet) of snow each season. But that's just the beginning: sprawled along BC's 10 mountain ranges are 13 major ski resorts surrounded by spunky towns exuding personality, playfulness and deep-rooted community spirit. Best of all, the ski season typically starts in late November and runs into April, granting powderhounds a blissful five months of mountain play. Keep reading for a rundown of new and exciting ski adventures across BC this year.
All hail heli-skiing in BC!
Heli-skiing is winter at its best – sprawling acres of pristine powder, scenic backcountry vistas and natural terrain that you can ski again and again… and again. And there's plenty of fresh motivation to heli-ski in BC this season: 
CMH Heli-skiing unveiled a new heli-ski destination for 2022 – CMH Purcell, a powder-packed backcountry sprawling 200,319 hectares (495,000 acres) in Golden. CMH's 12th heli-ski destination was born when its parent company, Alterra Mountain Company, purchased Purcell Heli-Skiing on August 30. The latter was founded in 1974 by Swiss mountain guide Rudi Gertsch, and offers single-, two- and three-day trips in the Purcell and Selkirk mountain ranges. CMH Purcell is the closest major heli-skiing operation to Calgary, and a mere two-hour drive from Banff, and features more than 1.2 million hectares (three million acres) of pristine terrain.
Further north, near the Alaskan Panhandle, Northern Escape Heli Skiing has become one of the only carbon-neutral certified heli-skiing operations in the world. The business partnered with Offsetters, Canada's leading carbon management agency, and Synergy Enterprises to examine its operations, lower environmental impact, and take action against climate change. It also supports The Great Bear Forest Carbon Project, which helps to reduce harvest levels and support the region's First Nations communities. Powderhounds seeking a sustainable adventure will be gratified to learn that Northern Escape Heli Skiing offers backcountry access to one of the world's deepest, driest and most reliable snowpacks, with terrain encompassing big and wild-alpine bowls, immense glaciers, steep couloirs and epic tree skiing. 
Speaking of sustainable heli-skiing, did you know Bella Coola Heli Sports became the world's first climate-positive heli-skiing operation in 2019? After a comprehensive audit, the company committed to reducing emissions wherever possible and purchasing offsets – not only for carbon it produces, but also an extra 10 percent. Skiers will salivate at the terrain offered by Bella Coola Heli Sports, which sprawls 1.4 million hectares (3.5 million acres) – an acreage as vast as the Swiss Alps. And, if you need more convincing, the company has been crowned the best heli-skiing operation in the world for the past five years.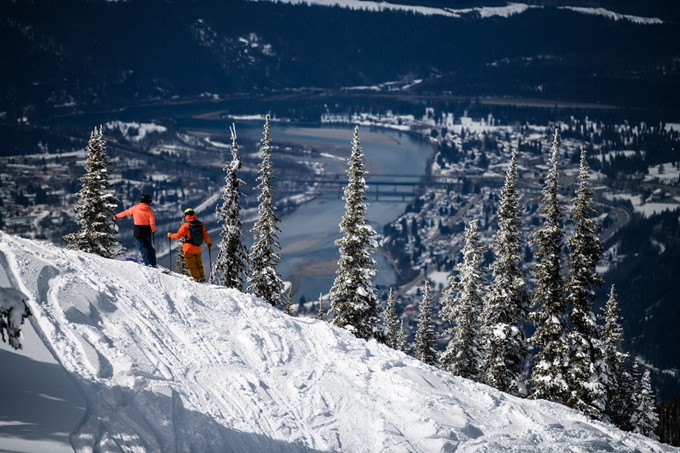 Step up your shred game with lessons at a local mountain 
With an already epic snowfall at ski resorts across the province, skiing newbies – or seasoned shredders eager to sharpen their skills – can take advantage of the season's pow and sign up for lessons at a local mountain: 
For an exclusive ski or snowboard lesson at Whistler Blackcomb, try the Ski or Ride with an Olympian Program. You'll have the opportunity to follow in the tracks of seasoned Olympians, who share their techniques along with tales of glory and their reasons for settling in Whistler. The lesson can be booked as a group, or as a private one-on-one.
Over at Sun Peaks Resort, the new Sun Peaks Backcountry Tours and Avalanche Training introduces backcountry enthusiasts to safe travel in remote areas. Courses cover avalanche protocol, safe riding in the trees, heli-cat skiing and guided tours. Skiers can also shred the pow with Olympic champion Nancy Greene, who spends ample time on the mountain and regularly skis with guests. Watch for signage at the top and bottom of the Sunburst chairlift to learn whether Nancy is on the mountain.
At Big White Ski Resort, southeast of Kelowna, ski tutorials tailored to all ages and skill levels ensure everyone in the family can participate. The resort's "learn to ski or ride guarantee" (available with Group Discover Programs) makes sure the first ski experience is memorable and successful – if students haven't learned how to stop and change direction by the end of the lesson, they can return for additional tutorials at no cost. Plus, the resort offers Flaik Tracking, which allows skiers to track their runs and see how much vertical they packed during their time on the mountain (parents will receive the information in an email after their child's lesson).
High above the Okanagan Valley, at SilverStar Mountain Resort, the new Peanut Park – situated on Middle Dipper – is an ideal spot for beginners to shred and progress. Here, guests will find small ride-ons, lip features, boxes and snow features, including jumps. There's also Bannister Park, located on Milky Way, which is the resort's first night park and encompasses boxes, rails and jumps. 
Four new accommodation options at BC's ski resorts 
Ready for an indulgent ski holiday? This season, new hotels and room options are offering atmospheric accommodations in the mountains:
In Revelstoke, construction is underway at Revelstoke Mountain Resort's new slopeside heli hotel. When it opens in summer 2024, the luxury property will encompass 154 rooms, over 6,700 square feet of conference space, 7,300 square feet of dining, and integrated fitness and spa facilities. It will also serve as the new home base of Selkirk Tangiers Heli Skiing, with three helipads directly adjacent to the property. 
At Fernie Alpine Resort, a unique new pod experience awaits at Raging Elk International Hostel. Guests will find comfortable, secure, and private "pod-rooms" at half the price of a typical hotel room. Handcrafted in Fernie, the pods are ideal for skiers on a budget, and feature dimmable lighting, a private cabinet for charging electronics, blackout curtains and shelving. The rooms are the only pod-style accommodations offered in the Canadian Rockies.
Over in Rossland, RED Mountain Resort recently introduced The Constella: A Cabin Collective, a collection of six eco-friendly cabins and a central clubhouse situated in Granite Mountain's Paradise Basin. The cozy backcountry cabins grant visitors direct access to the chairlift, and are surrounded by evergreen woods and pristine powder. 
In Terrace, Northern Escapes Heli-Skiing has opened a new fly-in/fly-out waterfront lodge in the Skeena Mountains that accommodates up to 10 people. From their remote hideaway, guests can ski pristine trails, tuck into five-star meals prepared by Red Seal chefs, or spend evenings stargazing while soaking in the outdoor hot tub.