All the world goes green on St. Patrick's Day, but it's particularly special to the 16 million Brits who claim Irish ancestry and the 320,000 Irish citizens living in the UK.

With a Map of Ireland throw blanket you can wrap yourself up in Ireland whether you're in London, Leeds, or Liverpool. Cork-based Loominations Throw Blankets introduces a new textile home gift to the UK market that is a 21st century take on Ireland.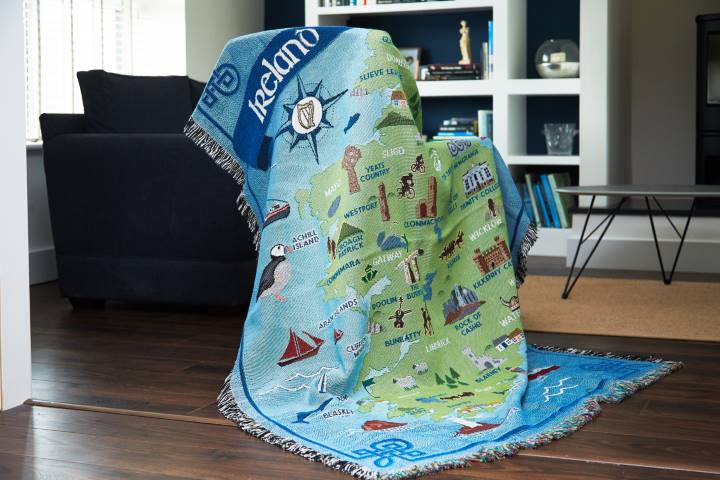 Irish icons, landmarks and activities are woven into a full-colour cotton throw with a bright, crisp and contemporary graphic design. An original Loominations design, there is nothing else like it on the UK market.
Eight miles of 100% cotton are woven into every throw. The tapestry-style throw has the vibrant colour palette, brilliant detail and luscious texture that can be achieved only through jacquard weaving. It is a modern, imaginative montage of Ireland's stunning landscape and rich heritage.
From the Giant's Causeway in the north, to the Ring of Kerry in the south, Dublin in the east and Galway in the west, you will find your favourite places woven into the throw.
Unlike traditional Irish woollen throws, it can be machine washed and tumble dried and will stand up to years of daily use. In fact, it will only become softer and more welcoming with time. Or why not hang on a wall like a fine tapestry, adding warmth and texture to the home of anyone with Irish pride?

Jamie Monagan, an American who has lived in Ireland for more than 20 years, founded Loominations Throw Blankets in 2015. She introduces her collection of 13 throw blanket styles to the UK market for the first time. They are available in the UK and Ireland exclusively from Loominations.

Other Loominations ranges include Celtic Collection; 21st Century Modern; Museum Masterpieces; and William Morris.