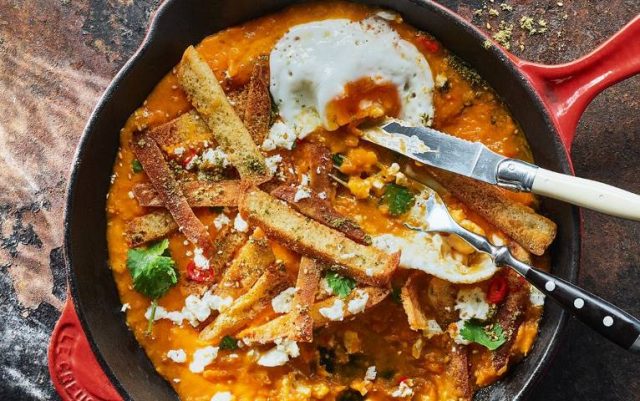 Visit @visit_israel Thursday March 25th for the live event. 1PM EST | 10AM PST
When it comes to the limits of appetite, Israelis are overly optimistic. I'm guessing that's why store-bought pitas come in ten-packs, a few of which are bound to be left over. Once you're past thirty-six hours of purchase, it's either freeze, repurpose, or dispose—in other words, time to get creative. Chilaquiles, that hangover dish of old tortillas crisped and doused in a tangy sauce, hasn't made it to Israel yet; I've rarely even seen a tomatillo in these parts. But I built this dish by starting with a riff on my classic Roasted Sheet Pan Cherry Tomatoes, brightening them with hot peppers and other elements that allow the sauce to rightfully call Israel home.
Pitaquiles Recipe
3 pitas (do not split into 2 rounds each)
¼ cup plus 2 tablespoons extra-virgin olive oil
1 tablespoon Za'atar Spice Blend (page 28 or store-bought), plus more for sprinkling
Kosher salt and freshly ground black pepper to taste
4 cups (1½ pounds) yellow or orange cherry tomatoes
1 medium onion, sliced into thin wedges
5 garlic cloves
1 large whole jalapeño, plus more thinly sliced, for garnish
1 tablespoon freshly squeezed lemon or lime juice
4 large eggs
½ cup (2 ounces) crumbled feta cheese
¼ cup 4-Hour Labaneh (page 44 or store-bought), or Greek yogurt
2 tablespoons chopped fresh cilantro, for serving
Preheat the oven to 425°F.
Stack the pitas and, using a sharp or serrated knife, slice them in half through the middle, then slice the halves into ½-inch-thick strips crosswise. In a large bowl, whisk together ¼ cup olive oil and the za'atar and add salt and black pepper to taste. Add the pita strips and toss to coat. Arrange them on a rimmed baking sheet and set aside.
Place the tomatoes, onion wedges, garlic, and jalapeño on a large rimmed baking sheet, toss with the remaining 2 tablespoons olive oil, and season generously with salt and black pepper. Roast until the garlic cloves are softened and golden but not burned and some of the tomatoes have burst, 15 to 20 minutes. During the last 6 to 7 minutes of roasting the tomatoes, add the baking sheet with the pita strips to the oven and toast, stirring once midway. Remove both from the oven and cool slightly.
Place the cooled tomato mixture in a blender and add the lemon juice. Blend until smooth and season with salt and black pepper to taste. Place the sauce in a 10-inch skillet and warm over medium heat until bubbling, 2 to 3 minutes. Drop in the pita strips and shake the skillet. Warm the mixture for 3 to 4 minutes.
While the mixture is warming, cook the eggs sunny-side-up in a separate pan. Add the eggs to the skillet with the tomato sauce and pita and top with the feta and dabs of labaneh. Garnish with the cilantro and jalapeño rounds.