DAWSON CITY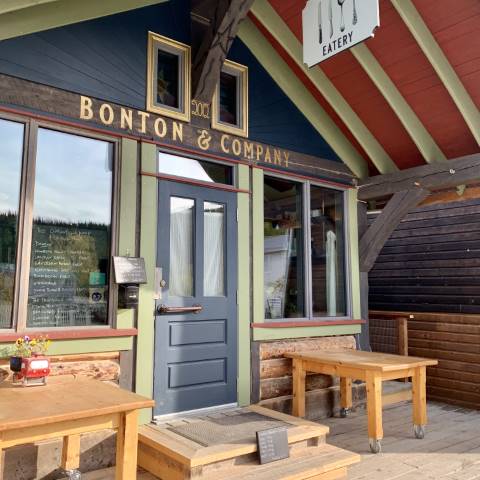 Bonton and Company – Bonton is by day, a cafe and provision shop specializing in locally sourced foods and food related items. By night (Thurs-Sat), they are an intimate restaurant serving small plates. Owner Shelby Jordan is the first butcher in Yukon to make traditional dry-cured salamis using only Yukon-raised meats. Opened fall 2020.
About 14 kilometres south of Dawson City, just off the Klondike Highway, is the territory's only dairy farm: Klondike Valley Creamery. Farmers Loren and Jen Sadlier are responsible for bringing dairy farming back to Yukon and have been producing an assortment of gourmet cheeses, yogurt and milk for the past year.
FIRST WE EAT Putting food sovereignty to the test in the far North, filmmaker Suzanne Crocker, living just 300 km from the Arctic Circle, removes absolutely all grocery store food from her house. For one year, she feeds her family of five, only food that can be hunted, fished, gathered, grown or raised around Dawson City, on the traditional territory of the Tr'ondëk Hwëch'in.
Ultimately the story becomes a celebration of community and the surprising bounty of food that even a tiny community in the far North can provide. First We Eat premiered to acclaim at the 2020 Hot Docs in Toronto. firstweeat.ca
WHITEHORSE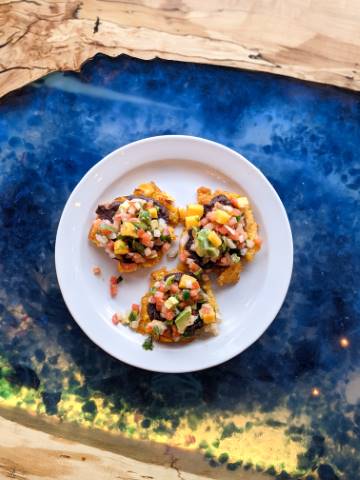 Gather Cafe and Tap House is a small eclectic restaurant co-located with Lumel Studios. They serve draft beer, wine, cocktails, coffees, teas and amazing food. At Gather they buy local – they make their own glassware, the coffee cups are handmade, the food is sourced as close to home as possible and the decor is as colourful as the hand blown glass created in the attached studio. The menu features latin flare (chef Daniela Sibaja is from Costa Rica) – think local pork carnitas, rum tres leche cake, cassava fries and Yukon beer-battered arctic char tacos. gatheryukon.ca
The Kind Café offers whole food with a health positive perspective. Healthy gluten free + plant-based breakfast, lunch, smoothies and coffee made with local and organic products. Delectable menu items include medicinal mushroom mochas, acai power bowls, carrot lox toast, and feel-good sweet treats. kindwholefoods.com
Wayfarer Oyster House was named one of Canada's top ten new restaurants 2019 by Air Canada's enRoute magazine. This northern coastal dining room provides the Yukon with its fix of fresh oysters, in addition to Yukon, Alaskan, and BC seafood, locally sourced meats, in house-made pasta and smoked fish, and a warm setting for libations. wayfareroysterhouse.com
5 Whitehorse craft breweries worth a pint stop. Best enjoyed in a glass, on a patio, by the lake, next to a glacier…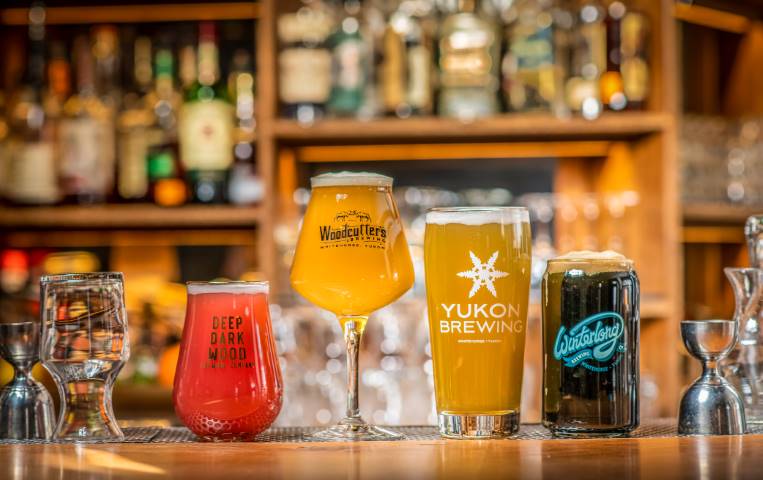 Polarity Brewing
Occupying a parkside and riverfront space in downtown Whitehorse, the city's newest craft beer destination combines a bright and airy taproom lounge with a tasty kitchen and adjoining small-batch brewery. Polarity features a "West Coast Eclectic" brewing style that draws on modern North American styles, but adds in their interpretations of the classics where possible. For its food offerings, Polarity strongly values sustainability, and sources nearly all of its meat and most of its vegetables from within 100 miles. polaritybrewing.ca
Winterlong Brewing
Their story started in university with a homebrew kit, but Marko and Meghan Marjanovic soon turned their passion of beer into Winterlong Brewing Co.- a deceiving name for a brewery that's open all year round. Instead of creating beer for the masses, they produce beers that they want to drink. Stop by their tasting room for a brew and a locally-sourced snack and you won't be disappointed, unless you're a connoisseur of common beers. winterlongbrewing.com
Deep Dark Wood Brewing
Without a set brewing schedule, Deep Dark Wood Brewing truly runs on "Yukon time." Each of their beers is brewed in an oak barrel using a variety of yeasts and cultures, producing funky flavours that people love to drink and hate to waste. The inspiration for experimentation comes from traditional European farmhouse brewing, during a time when beer was far safer to drink than water. deepdarkwoodbrewing.com
Woodcutter's Blanket
Woodcutter's Blanket is housed in a piece of Yukon history. Often called "the moose" (referring to the faux animals that adorn its exterior), the small log building dates back to the 1930s and is now a classic cocktail bar and brewery. This on-site brewery combines time-honoured brewing tradition with the finest ingredients (as local as possible), science and artistry. The house taps are connected directly to the serving tanks for the freshest glass of beer possible. woodcuttersblanket.com
Yukon Brewing
Alan and Bob loved beer but they struggled to find one that captured the unique taste of the Yukon. Instead of compromising with a beer that tasted like Alaska, they decided to build a brewery and make their own. The first task was to create a recipe that captured the uniqueness of the Yukon. They decided to take inspiration from the colour of the Yukon and created Yukon Gold- a refreshing draft beer that has the whole territory asking for more. Yukon Spirits (sister company to Yukon Brewing) won best Micro Distillery of the Year 2018 and their Two Brewers Yukon Single Malt Whisky has won numerous awards. Every release is unique and numbered. yukonbeer.com
Yukon Wine and Cider
Yukon Wines
Based in Whitehorse, Yukon's first commercial winery, Yukon Wines, produces eco-conscious wines unlike any in the world. Utilizing its own haskaps (also knowns as honeysuckle and honeyberry) as the star ingredient, Yukon Wines practices sustainable farming methods (one of its two farms is organic, and both are pesticide-free) and uses clean energy where possible.
Solstice Ciderworks
Yukon-made cider from Okanagan apples and berries, including haskaps grown at Yukon Berry Farms. The first ferment took place in spring 2020. Solstice Ciderworks hires emerging Yukon artists to design its labels.
For up to date Yukon travel restrictions, visit https://www.travelyukon.com/en/plan/travel-information/covid-19-coronavirus-update.