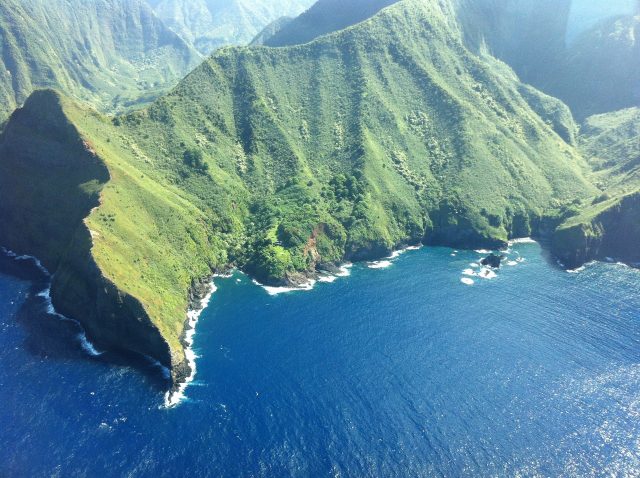 Some of Hawai'i's best-kept local secrets can be found along the streets and within the structures of the fascinating neighborhoods and towns of the Hawaiian Islands. Travelers looking to immerse themselves in local culture and lifestyle will appreciate the many hidden gems to be found in our island towns, from boundlessly creative gelato shops and a myriad of inventive bakeries to resident artisan galleries, cherished multi-generational and modern-cool eateries, and more.
Read on to discover some of the iconic, can't-miss attractions, restaurants and shops in a handful of neighborhoods on each island, as well as new spots and fun finds making Hawai'i's unique towns the places to be when you're in the Islands.
HAWAI'I
Hāwī – On your way to the famed Pololū Valley Lookout, be sure to stop and explore the quiet haven of Hāwī. Perhaps best known as the bicycle turnaround for the annual IRONMAN World Championship before triathletes pedal back south to Kona, this historic town, located on the northernmost tip of the island, is home to homespun boutiques and lively restaurants, as well as exciting outdoor adventure activities like farm tours, kayak tours, ziplining, ATV tours, and the original Kamehameha I statue.
Hilo – Brimming with local flavors and culture, residents of this midsize bayside city boast of its tasty multiethnic comfort foods, diverse attractions, rainforest escapes into nature and accessible waterfalls and the state's largest farmers market, all of which keep visitors returning again and again.
We recommend: Lili'uokalani Gardens (a 24.6-acre ornamental Japanese garden), 'Imiloa Astronomy Center (connects culture to science), Waiānuenue Falls (aka Rainbow Falls), Pana'ewa Rainforest Zoo and Gardens (the only natural tropical rainforest zoo in the U.S., and its free!), Sig Zane Designs (one of Hawai'i's premier fashion designers), Hilo Farmers Market (a daily gathering of local vendors), Moon and Turtle (an innovative farm-and-ocean-to-table focused neighborhood restaurant), Suisan Fish Market (for
fresh, local-style poke bowls), Café 100 (famous for its many varieties of the comfort food dish loco moco), Moonstruck Patisserie (try the liliko'i cheesecake), Kawamoto Store (a popular okazuya-style lunch shop and to-go breakfast favorite), Two Ladies Kitchen (for incomparable mochi)
What's new: Grand Naniloa Hotel – a DoubleTree by Hilton, Killah Grindz (shave ice and local comfort food)
O'AHU
Haleiwa – On O'ahu, visitors can experience both town and country with vibrant Honolulu and the iconic North Shore, known for big waves and trendy food trucks. The first stop along the North Shore is the historic surf town of Haleiwa filled with local style and country ambiance, as well as cool surf shops and boutiques, charming art galleries and understated restaurants housed in plantation-era buildings. Home to some of the most world's prestigious surf competitions, there are also a number of art and cultural festivals held throughout the
Kaimukī – Urban explorers searching the streets just outside of Waikīkī for food, drinks and interesting stuff should head mauka (towards the mountain) and past Lē'ahi (Diamond Head) to the eclectic Honolulu neighborhood of Kaimukī. From all manner of appealing bakeries and healthy cafes to craft brew pubs and trend-setting eateries big on international inspiration, this walkable hood offers the ultimate in tasty
We recommend: Lily Lotus (an eco-friendly clothing boutique), Surf 'N Hula Hawaii (a vintage surf shop), HI Bred Kollective (for intriguing novelty art), Koko Head Café (a popular brunch spot), Mud Hen Water (for its menu of inventive small plate eats crafted with locally-sourced ingredients), Via Gelato (a meeting of natural ingredients and unique dessert flavors), Kaimuki Superette (a cafeteria-style eatery), Café Miro (a dessert café), Chocolate+Vanilla Bakery (a groovy boutique bakery), BREW'd Craft Pub (for craft beer and eats), Town (Kaimukī's most award-winning eatery), Jewel or Juice (acai bowls)
What's new: Shop Toast (for island-made party and wedding favors), Sugarcane (a local- themed retail boutique), Vegan Hills (an eclectic approach to dining vegan), Pipeline Bakery (for its malassada bread pudding, need we say more?)
KAUA'I
Kōloa – This appealing town on Kaua'i's south shore honors its sugar plantation past with restored, old-fashioned storefronts, quaint Kōloa History Center and annual Kōloa Plantation Days Celebration each July. Don't miss the Kōloa Heritage Trail, a 14-stop, self-guided 10-mile tour of the Kōloa and Po'ipū area's most important cultural, historical and geological
Hanapēpē – Affectionately known as "Kaua'i's Biggest Little Town," Hanapēpē's historic buildings are home to a small collection of enchanting cafes and local eateries offering a diverse array of culinary delights. Craving a Hawaiian plate lunch? Or perhaps authentic Mexican tacos? You'll have a number of delicious options to ponder while admiring the many artisan galleries scattered throughout this west Kaua'i
MAUI
We recommend: Hanapēpē Art Walk (THE Friday night thing to do in town), Hanapēpē Swinging Bridge (Instagram-worthy, trust us), Talk Story Bookstore (for new, used and out-of-print beach reads), Aloha Spice Company (for local-style gourmet foods), The Bright Side Gallery (an ocean-inspired art gallery), Lappert's Hawaii (for Kaua'i-made ice cream), Little Fish Coffee (java and healthy eats), Paco's Tacos, Bobbie's (local-style plate lunches), Midnight Bear Bakery (organic artisanal breads), Wong's Restaurant and Omoide Bakery (where Chinese food and local dessert items meet), Taro Ko Farm (killer taro chips), Unko's Kitchen (more local-kind grinds)
What's new: Blu Umi (island-friendly women's fashions, accessories and home decor), Japanese Grandma's Café (modern healthy Japanese food), Family Grinds (local-style barbecue)
Kula – An authentically rustic and picturesque district ascending the west slope of Haleakalā volcano, Kula is where much of the fresh, grown-on-Maui produce served at the island's best farm-to-table restaurants originates. While in Kula, reserve a spot on a farm tour at Surfing Goat Dairy, Hawai'i Sea Spirits Organic Farm and Distillery, Ali'i Kula Lavender, MauiWine or other area producers. Inns and bed and breakfasts, such as G&Z Upcountry, allow guests to fully enjoy everything Kula (aka Upcountry Maui) has to offer, yet stay close to their island home-away-from-home.
Wailuku – Nestled at the foot of the West Maui Mountains, this relaxed residential town is known for its locally beloved assortment of family-owned cafes, restaurants and bakeries. In addition to these mom-and-pop eateries, Wailuku is also home to an assortment of contemporary bistros and coffee cafes offering a robust array of eats and drinks popular with both visitors and
We recommend: Haiku Mill (tour a historic sugar mill), Native Intelligence (Hawai'i- made arts and crafts celebrating Hawaiian culture), Wailuku Coffee Co. (try a cup of Maui-grown joe), Stillwell's Bakery and Café (sandwiches made with house-baked bread, Tokyo Tei (family-run local Japanese food), Maui Coffee Attic (for java and live music), Sam Sato's (try its famous dry mein), Tiffany's Bar and Grill (local-style bar food, open late), Tasty Crust Restaurant (resident-favorite breakfast spot), The Mill House (creative grown-on-property farm-to-table menu), 808 on Main (more than your average sandwich café)
What's new: Wai Bar (cool community tavern), Kwai-Sin's Noodle Shop (for a late-night ramen fix)
MOLOKA'I
Kaunakakai – Folks looking to explore Hawai'i at an even calmer pace will feel right at home in this central Moloka'i town, which, despite appearances, is also the island's largest. To walk Kaunakakai's main street, Ala Malama Avenue, is to take a step back in time, exploring its weathered West-style storefronts and mom-and-pop stores. The residents of Kaunakakai? They have their town no other
We recommend: Moloka'i Artists and Crafters Guild (features work from Moloka'i artisans), Kanemitsu Bakery (famous for its late-night alley-distributed hot bread), Moloka'i Pizza café (the one-and-only on island)
What's new: Hiro's 'Ohana Grill (dining with a view at Hotel Moloka'i)
LĀNA'I
Lāna'i City – Founded in the early 1900s as a plantation town whose residents worked for the island's then nascent pineapple industry, Lāna'i City remains the island's residential gathering place with most of its shops, restaurants and business forming a town square around Dole Park. Though pineapple production on Lāna'i ended in 1992, the island once produced 75 percent of the world's pineapples. Bring a light sweater as you explore the town. Situated at an elevation of 1,700 feet, Lāna'i City is noticeably cooler than coastal areas of the
We recommend: Lāna'i Culture & Heritage Center (everything you'd want to know about the island, and more), Local Gentry (eclectic clothing boutique), Lāna'i Art Center (works by island artisans), Blue Ginger Café (try the breakfast bento, with Spam), Lāna'i City Bar and Grille (unofficial liveliest bar in town)
What's new: An array of ocean experiences at Four Seasons Resort Lāna'i including a snorkel sail, whale-watching cruise, private charters and more.