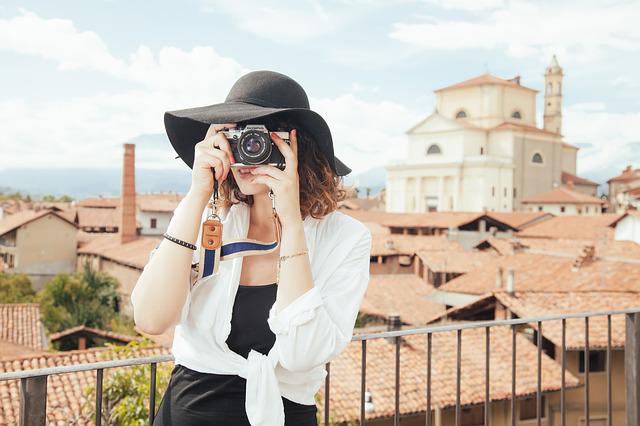 Travel enthusiasts are happiest when they circle the world and require intricate gifts to accompany them abroad. Because they roam a lot, trip-goers don't need temporary things.
Instead, adventurous spirits need items to satisfy their wanderlust. Whether a sturdy camera or an unbreakable water bottle, there are tons of gift ideas your friend-traveler can benefit from.
If you have a buddy that loves taking journeys and you want to get them a purposeful gift, consider some of the following ideas!
Gifts For People Who Love To Travel
Trip-goers spend most of their budget on travel expenses. And although they love the journey, the whole packing ordeal can be stressful. If you're searching for the perfect gift for someone that has the urge to roam, make sure it's something that will make tracking their travel checklist a breeze.
Everyone knows the most common gifts like a Bluetooth tracker for getting lost or a neck pillow to remedy all-nighters. But what about portable coffee makers and mini-fridges? You might think your roaming friend can buy all they need at the destination they're traveling to, but with all that sightseeing, it'll be the last thing on their mind.
Whichever travel-friendly present you want to treat them with, they'll surely appreciate one item less to worry about on their list. Besides the standard hygiene products, here are some other things your traveling buddy can use while on vacation!
10 Gift Ideas for Travelers
Here's a rundown on some of the best gifts for travel enthusiasts that will make their 2022 trips awesome (thanks to you!):
Portable Charger
It can be dreadful being on the road with a dead battery. Giving your traveling friend a portable charger will not only save them from being lost, but they'll enjoy surfing the web along the way.
A portable charger will also help them if their travels include hikes, long walks, buses, or airplane rides. Sometimes a power bank is all your travel buddy needs to keep themselves entertained and snap some photos during the sightseeing.
Hammock
If your pal is a nature explorer, they'll forever thank you for a hammock. This portable bed requires no payment or room key for you to enjoy. All your friend needs are two adjacent trees and tree straps and rings.
With a hammock, your buddy won't have to worry about being stuck sleeping outdoors and will always have a crib ready. They can always strap it on some palm trees for a bit of shut-eye.
Vape Device
Nothing is more enjoyable than vaping while traveling. While others can't wait for the next pit stop for a smoke, you can continuously vape in your car or during a travel break.
Whether it's a new style, a whole new kit, or an exotic flavor, you can find a collection of the top-selling vapes on Provape! There's something for the needs of every vaping enthusiast. Whenever they puff, they'll remember your gift and what a fantastic person you are!
Purifying Water Bottle
It's always advisable to remind travelers to stay hydrated. Your travel buddy can always enjoy fresh water with a purifying water bottle instead of buying disposable ones.
A water purifier can transform water from a natural source into clean, safe water. Your friend will thank you for his genius invention with a built-in water filter that makes the water drinkable.
Instant Camera
Everyone loves an instant camera. With this gift, you give your friend the chance to savor the moment and take an instant photo to last them forever.
Whenever they see something worth capturing, they'll take a polaroid and thank you for it!
Foldable Duffel Bag
Sometimes packing too much can lead to a heavy suitcase. Often, travelers get sent back if their luggage is too hefty for the plane.
In such cases, a foldable duffel bag can do the trick. You can easily pack the bag in a backpack or a suitcase, which can help when your friend carries one too many souvenirs. The duffel bag can also function as a laundry bag, beach bag, and makeshift grocery bag.
Leather Passport Holder
Those who travel a lot have to deal with their passport looking pretty beat-up. That's why a simple leather passport wallet can keep the passport looking new.
The wallet isn't too bulky, so it doesn't take up much space. It offers protection and a holding place for your passport.
The leather passport holder can hold other things, too. You can safely secure the airplane, train, or bus passes in the wallet's inner lining. Other handy uses include a safe spot for credit cards, ID, and extra cash.
Noise-Canceling Headphones
Noise-canceling headphones are just the thing your traveling friend needs to cancel out unpleasant noises. Whether it's during uncomfortable bus rides or long plane hours, headphones are the best thing to help your friend relax. They won't have to worry about an outside commotion and will be at peace with their favorite music or TV shows.
Travel-Friendly Backpack
You might think they have loads, but your friend can genuinely benefit from another hiking backpack. Besides being spacious, the hiking backpack is just the thing to take onto the plane.
You can take the hike-friendly backpack as a carry-on and take advantage of the top, side, front and rear pockets. These pockets make it easier for the traveler to pack everything and have it on them on the plane.
Army Knife with Nail Clippers
Some may think that giving nail clippers as a gift is weird, but they'll love them if they come with pocket knives. This gift not only signifies that you're thinking about their safety, but it will remind them to keep clean.
Nail clippers usually come with a tiny Swiss army knife, which is useful when danger comes calling. It's a small knife, so it's perfect for the road. However, it's best to alert the airport staff of this item when boarding a plane.
Conclusion
Those were some of the top ideas for travelers, and we hope you got inspired to brighten up a close friend's day! Whether it's an instant camera or a water purifier, your friend will undoubtedly cherish the thought.