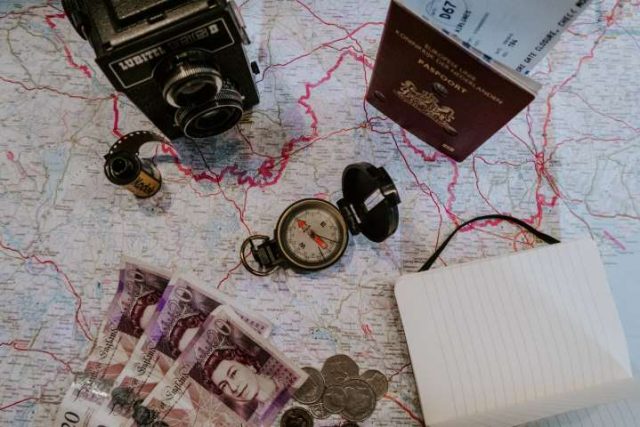 Whether you're traveling for pleasure or business, keeping count on how much you spend is essential. Unless you're a billionaire, every dollar counts. The idea isn't to deprive yourself of pleasures and needs but to anticipate and act accordingly. Invest some time and energy to prepare for your journey, and you'll save your hard-earned cash.
1. Keep tabs on how much you spend
The first tip on the list caters to your financial consciousness. Do you feel you have a good knowledge and control over your spending? Most of us would say yes, but do we? According to a large study, 40% to 60% of people spend money impulsively. The causes are many and far in-between. However, there is a way to keep track. Not for nothing, but if you buy something, you should balance the pros and cons and make a mindful decision.
For instance, Trail Wallet is a proficient money tracking application that will help you control your cash flow on the road. Indeed, other apps exist for this purpose, as well. Spend some time and choose one that suits you. It's particularly important to keep yourself accountable for your expenditures. Remember that's tougher to manage if you don't have a clear list of your financial movements.     
2. Carry the right credit card
Your credit card and banking options affect your spending just as much as anything else. The problem with credit cards is that it's hard to keep track of the money. Also, the fine print and custom writing in contract stipulations are pretty much unknown for the majority of customers. Rarely do bank clients adequately inform themselves about the ups and downs of their agreements. In any case, try to dedicate some time to choosing the right credit card for traveling. Here are some examples:
Chase Sapphire Preferred® Card from Visa
The Platinum Card® from American Express
Citi Prestige® Card from MasterCard
Traveling credit cards can award neat offers on airplane bookings, carsharing, restaurants, hotels, and much more. Every card has a different points system, so you'll have to study the terms a little bit to maximize your reimbursements. Nonetheless, it's worth it in the long run.
3. Choose the right ATMs
On top of a good credit card, you'll need a dependable bank card when going abroad. Usually, bank cards have the best currency exchange rates. A few cards will even reimburse your ATMs fees. Furthermore, mapping out the most convenient ATMs is just as important as having the right traveling bank card. It's all about fees and commissions.
ATMs in major tourist zones, hotels, and airports typically have high rates. Most importantly, avoid ATMs not associated with reputable banks. Some will try to charge you hundreds of dollars for simple transactions; for instance, Euronet is known to overcharge.
A general rule is that if the machines look sketchy, then it's better to sidestep to the next one. Instead, look for official banking institutions.
4. Buy local food with the "six-block rule"
This fantastic rule might be universal when traveling to save money. Just don't purchase in large tourist hubs. Mainly because these areas have increased rates due to the influx of foreigners. Not even the best writing services could have condensed such a useful idea in so little words: the six-block rule – awesome. 
Food-wise, Matt Kepnes from the Nomadic Matt puts it smoothly: "Never eat within six blocks of a major tourist spot. The food is double the cost and half as good. Walk farther and get much better food at a better price."
Other useful tips include going to morning markets. Here you'll eat healthy and cheap, just like the locals. The same thing goes for restaurants or grocery stores. Follow the locals, and you'll get the best deal. Also, check websites like Yelp!, Openrice, and Foursquare when deciding where to eat.
5. Find cheap accommodation
Planning your transportation and lodging is paramount. It's our last point on the list, the least unexpected, but the most important. First of all, you should check several websites and compare prices before you book:
Hostelworld.com
Booking.com
Agoda.com
TrustedHousesitters.com
Couchsurfing.com
Priceline.com
Airbnb.com
More so, you should consider alternatives to hotels:
· Hospitality exchanges
Locals can offer you almost free accommodation and good advice for your travels. Check availability at Couchsurfing, Global Freeloaders, or Hospitality Club. Just make sure they have good reviews, a somewhat complete profile, and pictures.
· Hostels
If you're young and love socializing, then a hostel is the best option for you. Check out Hostelworld for small prices ranging from $5 to $30 per night.
· Home exchange
Home exchange is just that: swapping homes. Visit Mind My House, House Carers, and Luxury House Sitting and see if there's anyone in your destination area willing to switch houses for some time. It may seem risky, but the verification process is sturdy enough.
· Airbnb
An Airbnb is an excellent compromise for those who want comfort at a low price. Surf Wimdu and Airbnb and select between hundreds of furnished residences. Also, most of them have kitchens where you can cook and reduce costs.
· Farms
If you're an outdoorsman, then a farm stay might fit you just fine. Check out Farm Stay UK, Farm Stay US, and Farm Stay Australia. Many working farms offer organized outdoor activities, local delicacies, and comfortable rooms. Prices are lower than budget hotels, but the experiences are priceless.
· Monasteries
Even if you're religious or not, staying at a monastery can be an unforgettable experience. Search on Monastery Stays Locations, How to Stay in a Monastery, 15 great Monastery Stays, and Monastery Stays Around the World on CNN.
Housing in these sanctuaries is often very spartan, including no more than a bed and desk. The food is healthy and straightforward, prepared by the nuns. Additionally, the surroundings are very tranquil and quiet. Most safe heavens are free, but some accept donations or a minimal fee. It's worth the try!
· Card points hack
Through various hotel programs, you can collect points and redeem them for free nights. Sign up for a hotel credit card and start racking fidelity credits. Start now, and maybe next time you'll stay a night for free.
Traveling on the cheap is possible. You just have to figure out a way to track your financials and stop wasting money. Ask for a consultation with your bank and apply for a traveling credit card and bank card. Map out convenient ATMs and avoid buying from tourist hubs. Consider alternative accommodation such as hospitality and home exchanges, hostels, Airbnb, farms, and monasteries. Think in advance, and you'll be good to go. 
Michael Gorman is a proficient freelance writer and proofreader from the UK who currently works at essay writing service UK. He's very proud to work at one of the best online essay writing services and conduct research for a myriad of essay writing services. Being interested in everyday growth, Michael writes various blog posts and learns new aspects of human existence.