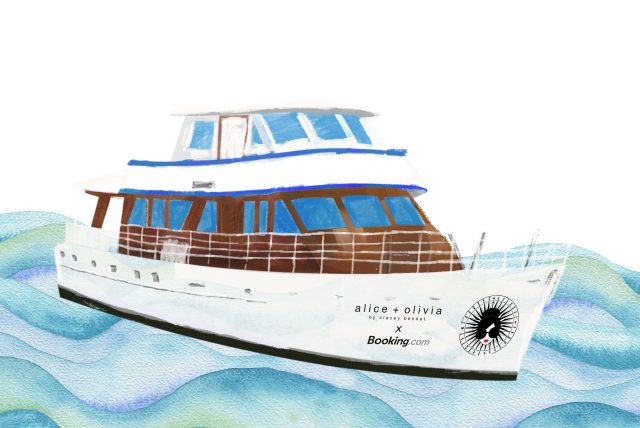 This New York Fashion Week, Booking.com has partnered with contemporary fashion brand alice + olivia to give travellers the exclusive chance to book a stay aboard the Fashion Yacht at Chelsea Piers in New York City.
On September 11, 2018, alice + olivia will showcase their Spring/Summer '19 collection, "Passport to Wonderland," at Pier59 Studios, a landmark destination for internationally acclaimed designers and the fashion industry.  The presentation space on Stage B will feature intricate sets designed to transport guests to enchanted locations, including Italy, France, Morocco, and the UK countryside, inspired by real destination properties available on Booking.com.
alice + olivia show attendees will embark on an interactive journey to "Wonderland" aboard the 70-foot Fashion Yacht, a unique property exclusively available on Booking.com, which will be outfitted in alice + olivia's signature designs, evoking the ultimate vacation getaway.
Three consumers will have the unique opportunity to book a stay overnight through Booking.com on the two bed, two bath yacht used in the alice + olivia fashion presentation. Picture stepping off your private vessel in Positano, while staying literal steps from the beating heart of New York Fashion Week.
Those interested in taking this fashion journey will have to act quick, with only three nights available for booking. Every day at 17:00 EST on September 5th, 6th and 7th, Booking.com will release a one-night stay for September 11th, 12th and 13th through the online listing here at a cost of $59 USD (approx. $77 CAD). On September 11th, the overnight stay will include two tickets to attend the alice + olivia presentation, And on September 12th and 13th, guests who book the accommodation will be gifted a shopping spree at the alice + olivia boutique.
"Travel has always been a big inspiration for me; it is a huge part of my creative process. I wanted the "Passport to Wonderland" collection and experience to reflect the women of the world and the vibrant countries and cultures they represent; the prints, patterns and colors from each destination continue to inspire me," says Stacey Bendet, CEO and Creative Director of alice + olivia. "Through this partnership with Booking.com, I'm excited to merge the world of travel with fashion and to highlight the influence fashion has on travel, and vice versa."
"Fashion plays a big part in our customers' planning and preparation for their vacations across the world. We are excited to embrace the confidence and joy that fashion brings them through our partnership with alice + olivia," Booking.com's CEO, Gillian Tans added. "This New York Fashion Week activation celebrates the best way to experience fashion and travel with the ultimate New York fashion experience."
This unique initiative celebrates the incredible diversity of Booking.com's offerings and is just one example of the many unforgettable experiences Canadian travellers can enjoy at one of the travel leader's 28.8 million reported listings that include everything from cozy country homes, funky city apartments, villas, world-class hotels, vacation homes, resorts and more. A list of Booking.com properties reminiscent of locations featured in the alice + olivia Spring/Summer '19 presentation is available upon request.