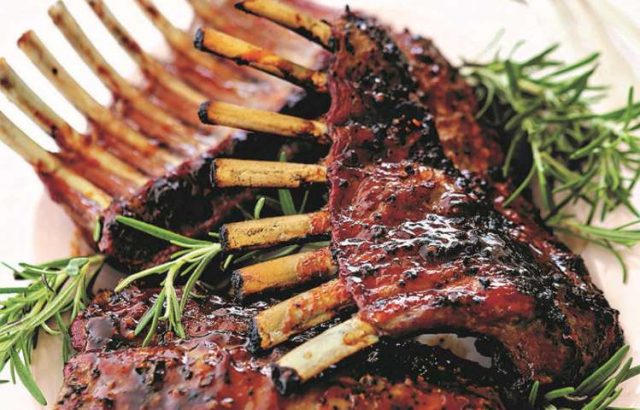 Taken from Melissa Cookston's cookbook, "Smokin' in the Boys' Room," the below award-winning recipe for smoke-grilled rack of lamb is a great Easter and springtime recipe that will impress friends and family!
"I believe the best flavors can be achieved by setting up a 2-zone grill and giving the lamb just a little bit of smoke flavor before finishing it off with a quick sear. If you have a gas grill, a 2-zone fire is as simple as turning one side to low (or off, depending upon the size of the grill) and one side to medium high or high. With a charcoal grill, it's almost as easy. Simply use 80% of your coals on one side of the grill, placing approximately 20% on the other just to provide some heat."
SMOKE-GRILLED RACK OF LAMB
Rack of Lamb:
2 racks of lamb, frenched
2 tablespoons Memphis Barbecue Company Ultimate BBQ Rub
2 tablespoons Dijon mustard
1/2 cup Memphis Barbecue Company Original BBQ Sauce
Marinade:
1/2 cup olive oil
1 tablespoon red wine vinegar
1 tablespoon fresh rosemary, coarsely chopped
1 tablespoon chopped Italian parsley
1 tablespoon kosher salt
1 tablespoon coarse ground black pepper
1 teaspoon fresh oregano, coarsely chopped
5 to 6 fresh basil leaves, chopped
1 tablespoon orange juice
In a small bowl, whisk together all marinade ingredients. Place racks of lamb in a large resealable plastic bag and pour in marinade. Seal tightly, pressing out as much air as possible, and marinate for 4-6 hours, turning the bags every 2 hours.
Prepare a grill for a 2-zone fire. As grill is heating, remove racks from marinade, discarding marinade. Pat racks dry, taking time to clean the frenched bones. Brush meat with mustard, then sprinkle with BBQ Rub. Cover bones with a piece of foil to ensure they don't char, then allow racks to sit out of fridge for 30 minutes before placing on grill.
Place lamb on cooler part of the grill, using 1-2 chunks of cherry or pecan wood in the grill if possible. Allow to cook for 30 minutes to 1 hour (will depend on type of grill and temperature) or until internal temperature reaches 125 degrees. Place racks on hotter part of grill and sear, brushing with BBQ Sauce. Remove racks when temperature reaches 135-140 degrees.  This will give you a rack of lamb with medium doneness. Remove from grill, allow to rest, and slice between the bones to cut into chops.