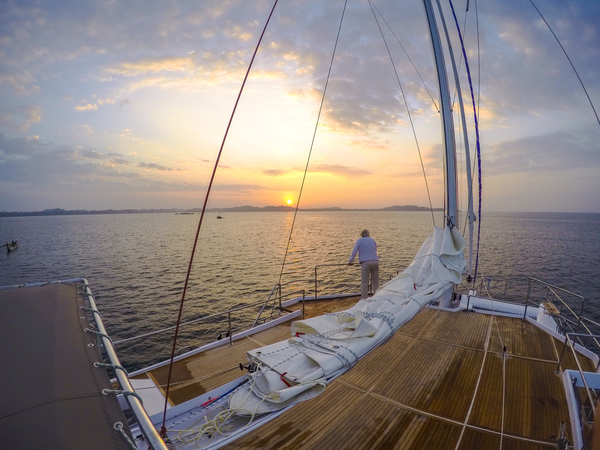 A tripling of demand for trips to Sri Lanka in the past year has led small-group adventure operator, G Adventures, to launch a new programme of group sailing tours along the southern coast, becoming the first travel company to do so.
The seven-day 'Sri Lanka Sailing' trip, which travels from, and returns to, Mirissa, begins on February 02, 2018, making it the perfect winter escape. The trip can also be combined with a land-based itinerary in Sri Lanka – known as 'the pearl of the Indian Ocean' – to create a 14-day land and sea getaway.
After seeing growth increase three-fold for Sri Lanka tours in the past year, offering a sailing trip was the next natural step, says Vince Donnelly, global sailing manager, G Adventures.
"We're thrilled to be the first adventure company to explore Sri Lanka by sea. They say great things come in small packages and Sri Lanka is a fantastic destination with plenty to see, do and taste.
"These sailing trips have a local chief experience officer (CEO), skipper, and cook onboard, so travellers will also experience the local culture and flavours as they explore the stunning Sri Lankan coastline," says Donnelly.
Highlights of the new itinerary include Galle, a magnificent, car-free, fort city on the southwest coast, which was founded by the Portuguese and feels like a small European town. Travellers will also visit Ussangoda National Park, the newest national park in Sri Lanka, which is home to a variety of wildlife and rare medicinal plants. Its red earth is said to be the result of an ancient asteroid that crashed into the land.
While onboard travellers will be also able to spot the largest animal on earth, the blue whale, as the giant creatures are drawn to feed in the deep-sea trench just off the coast.
The launch of Sri Lanka sailing brings the number of sailing destinations offered by G Adventures to eight, with 19 different itineraries across the British Virgin Islands, Croatia, Cuba, Greece, Indonesia, Montenegro and Thailand.
The two new itineraries are as follows:
Sailing Sri Lanka – Discover the culture and wild, natural beauty of Sri Lanka, with a perfect mix of chill-out time and exploration. Sail along the southern coast of Sri Lanka, stopping along the way at the old trading fort of Galle, remote beach towns, and the fishing village of Kudawella. When your land-locked feet get a little tired, there's plenty of time for snorkelling, surfing, and enjoying the beach.
Sri Lanka Land & Sea – On this 14-day tour, search for wildlife on a safari, visit the historic city of Galle, and taste for yourself the exotic flavours at a spice plantation. Then, head over to the southern coast (with whales and dolphins as your travel buddies) for some well-earned time with snorkelling, surfing, and a beach barbecue.
For more information visit www.gadventures.co.uk.