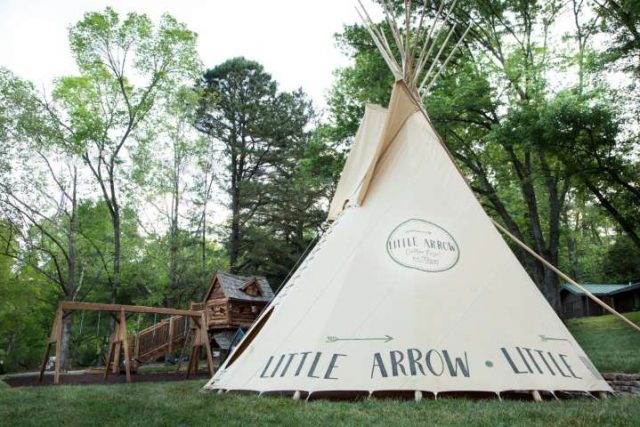 In November 2017, Carmen and Brad Simpher never imagined they would be moving from their home in southeast Missouri to the beautiful foothills of the Great Smoky National Park in Townsend, Tennessee.
Their decision to purchase Tremont Outdoor Resort, a 40-year-old campground, didn't come lightly or without a few risks. Now less than a year later, the Simpher's, along with Carmen's sister Chelly Clayton and her husband Kevin Clayton, are celebrating Little Arrow Outdoor Resort's first successful summer!
"We originally wanted to create a Tiny Home property," stated Carmen Simpher, co-owner of Little Arrow. "However, with our family's experience in camping, our vision completely transformed into what Little Arrow has become."
After months of renovations, remodeling and construction, Little Arrow was officially open for camping on April 27, 2018. The immediate reaction to the revamped campground was extremely positive, and word of Little Arrow quickly spread.
Little Arrow celebrated a successful and busy first summer in business. The Simpher's were pleasantly surprised with how fast their guest book filled up. With 2019 in full swing and warmer weather on its way they expect another busy summer.
The "glamping" resort now includes over 80 RV sites, 26 cabins, nine Clayton Tiny Homes, eight Glamping Tents and an Airstream camper that allows visitors to enjoy a luxurious, outdoor camping experience, while having direct access to the Smoky Mountains and outdoor adventures of Blount County.
Guests can choose how rustic of an experience they want when coming to camp at Little Arrow. Most of the accommodations include heat and air conditioning, running water, bathrooms and fully-stocked kitchens. The grounds include a new club house, store, coffee lounge, dog park, swimming pool and new playground for kids to enjoy Guests can also easily access new river paths for tubing and fishing in the Little River.
For the Simpher's, this past year has been an adventure, which is how they settled on the name "Little Arrow."
"An arrow can only be released by being pulled back," explains Carmen Simpher. "When life pulls you back, it simply means you are launching into something amazing, and we really think we are launching into something amazing here." To learn more about your next camping experience and to make reservations, visit them online at https://www.camplittlearrow.com/.