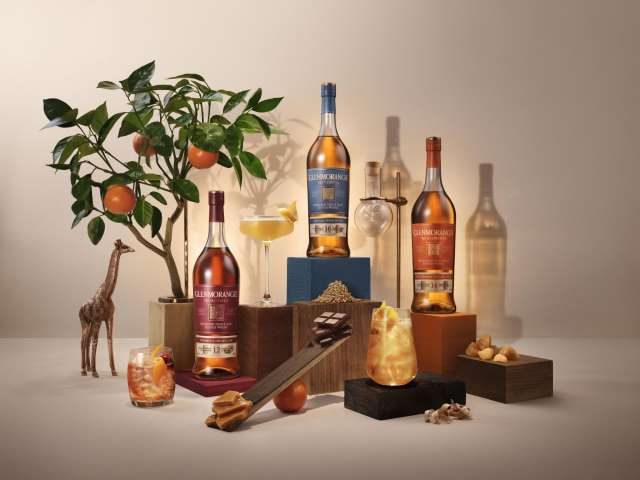 Glenmorangie celebrates the generations of skill behind its delicious single malt, by sharing three outstanding new whiskies exclusively in Travel Retail. Each expression's unique taste showcases a different and demanding art, perfected by the Men of Tain through the years at the Highland Distillery.
The three new expressions will be shared with travellers worldwide from early 2020. Before that, they will be previewed exclusively in Dubai International airport (Dubai Duty Free, October 2019) and Hong Kong International airport (CDF-Lagardère, November 2019).
Glenmorangie's whisky creators have dedicated themselves to crafting the most wondrous single malts since 1843. With these latest creations, Dr Bill Lumsden, Director of Distilling, Whisky Creation & Whisky Stocks, pays homage to their expertise. Each whisky is distilled in Glenmorangie's signature copper stills, the tallest in Scotland, for a fruity and fragrant spirit. And each reveals the Distillery's mastery of timeless techniques such as cask marrying and wood finishing.
They include:
The Accord:
A fruity and rich 12-year-old whisky marrying bourbon and Oloroso sherry casks
Dr Bill said: "With this whisky, I was inspired to explore the classic art of marrying casks. Selecting a smooth, fruity Glenmorangie aged in bourbon barrels, I carefully balanced it with a sweet, spicy whisky matured in Oloroso sherry butts. Named to reflect its perfect harmony of casks, The Accord brims with rich, fruit notes and our whisky's signature finesse."
The Elementa:
A spicy and deep 14 year-old whisky finished in new charred oak casks
Dr Bill said: "Glenmorangie was among the pioneers of wood finishing more than 30 years ago. Our Elementa celebrates this art, revealing the depths of flavour a skilful finish can bring. Taking whisky aged in bourbon casks, I finished it in new charred oak casks for woody depth and warm spice. As its name suggests, this whisky's taste deliciously reflects the natural influences of the new wood."
The Tribute:
A zesty and rounded 16-year-old whisky created from a heritage spirit batch
Dr Bill said: "There was a time when peat was the main source of fuel at Glenmorangie, giving our spirit a noticeably smoky style. To celebrate our heritage, I distilled a rare, lightly peated spirit with a hint of smoke. Aged in bourbon casks and united with Glenmorangie's signature spirit, our Tribute's citrus smoothness and rounded flavours are a zesty nod to the past."
Dr Bill added: "At Glenmorangie, we've been honing our craft for more than 175 years, on our quest to create the most delicious whiskies. I hope travellers enjoy the unique tastes of these single malts, which shine a light on our expertise in cask marrying and wood finishing, as well as our heritage style of spirit."