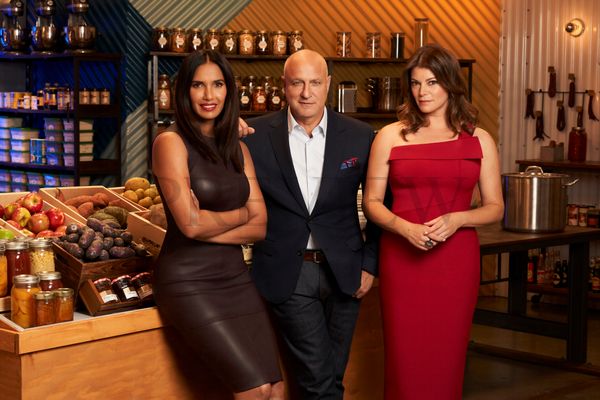 Los Angeles is the host city for Bravo's "Top Chef" Season 17 – All Stars LA and today Bravo dropped the trailer for the highly anticipated season which debuts with a supersize episode on Thursday, March 19 from 10:00 – 11:15 pm ET/PT. In it, the contestants take over the City of Angels to compete for the title of Top Chef, making stops at some of the city's most noteworthy culinary institutions and landmarks.
Front and center in the season are some of the city's most iconic landmarks including Griffith Observatory, home to a planetarium and telescope with epic views of the city showcased in La La Land and other famous films, and Union Station, the city's historic main railway which celebrated its 80th anniversary in 2019. The battleground for this season's title is vast, taking contestants from Cabrillo Beach in San Pedro to The Getty Center near Brentwood for quickfire challenges and more.
In addition to the contestants, this season there's another star of the show: L.A.'s culinary scene, which has been sizzling for years. Called the "Most Exciting Food City in America" by the likes of GQ, Food and Wine and more, the MICHELIN Guide also returned in 2019, awarding 24 Greater Los Angeles area restaurants with its most prestigious accolade in the inaugural MICHELIN Guide California selection.
"Los Angeles has had the good fortune of playing host to 'Top Chef' in years past and we felt they really understood our dining scene and the Los Angeles experience, so we jumped at the opportunity to host again," stated Don Skeoch, Chief Marketing Officer for the Los Angeles Tourism & Convention Board. "We are proud to showcase the city's culinary scene and accomplished pool of talent. Over the last decade, we have witnessed the profound growth of dining options throughout the city and are thrilled the world will have the opportunity to witness it for themselves."

The city is the perfect location for this season: here, food is an experience and creativity and innovation are encouraged, which is why so many chefs choose the city to debut their dining concepts including "Top Chef" Season 12 Winner Chef Mei Lin (Nightshade) and Season 14 Winner Chef Brooke Williamson (Playa Provisions, Tripel, Hudson House), a guest judge in the upcoming season.
To plan your next Los Angeles vacation, you can find them @discoverLA on Instagram or Facebook or visit discoverlosangeles.com.