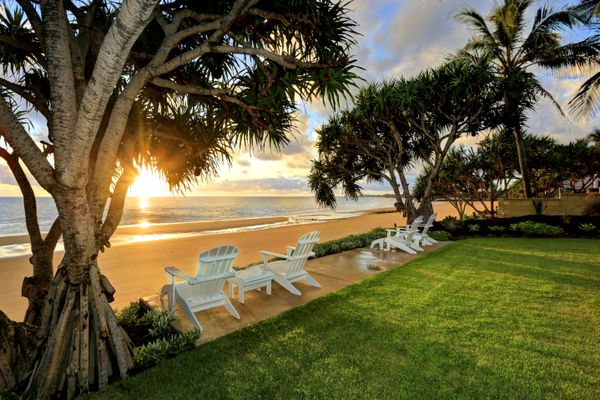 Attracting attention in a market that includes iconic Australian destinations like Lizard and Orpheus Islands, ZEN Beach Retreat offers relaxed luxury and private iconic reef, beach and island experiences.
Positioned on absolute beachfront in Bargara, on Bundaberg's coastline, ZEN is less than an hour's flight from Brisbane and is within easy access of two Iconic UNESCO World Heritage Listed wonders, the majestic Great Barrier Reef and spectacular Fraser Island, the world's largest sand island.
Hosts Shane and Pascaline Emms design tailor-made holidays featuring unique, private and fully-hosted experiences from the boutique retreat, which can accommodate up to twenty two guests across five residences.
Working around the concept of Unlocking Your Own Great Barrier Reef Secret, bespoke experiences include:
Shane Emms, owner of ZEN Beach Retreat, said 'The foundation of the ZEN experience is the welcome we give to our guests.  Simplicity and authenticity underpins every customised holiday we create – we are a small team and we care about our guests.  We want to surprise them and wow them with our signature mix of elegance, warmth and authenticity.'
Snorkelling and diving the turquoise waters of the pristine, unspoilt Great Barrier Reef on Lady Musgrave Island and the world leading eco-tourism destination of Lady Elliot Island;
Private discovery tours of the sand paradise of Fraser Island;
Swimming with sea turtles before witnessing nesting and hatching of turtles including the endangered Loggerhead Turtle in ranger-led encounters;
Exploring the extraordinary food bowl of the Bundaberg region, including internationally-acclaimed iconic and craft beverages, with behind the scenes farm tours and private chefs;
Sporting leisure experiences with elite sports heroes in the great Australian outdoors;
Deep relaxation, well-being with innovative and holistic ZEN Ocean Wellness Signature Experiences, from the very first ocean immersion phase to the last.
Shane Emms, owner of ZEN Beach Retreat, said 'The foundation of the ZEN experience is the welcome we give to our guests.  Simplicity and authenticity underpins every customised holiday we create – we are a small team and we care about our guests.  We want to surprise them and wow them with our signature mix of elegance, warmth and authenticity.'
'ZEN is more than just discovering a new destination in relaxed luxury and style; it's all about those little breathtaking moments.  There are so many secrets that are yet to be discovered on the Southern Great Barrier Reef, and we seek to give our guests access to places and opportunities most people have never even heard of.'
Katherine Reid, General Manager of Bundaberg North Burnett Tourism, said, 'We are thrilled to welcome ZEN Beach Retreat to Bundaberg and the Southern Great Barrier Reef.  We are seeing significant increases in tourism in the region, and high-end offerings like ZEN are further testament of the maturing tourism industry Bundaberg is home to.'
'The undiscovered Southern Great Barrier Reef is becoming famous for its accessibility and its intimacy – the beaches are uncrowded, the coral cays and reefs are pristine and it's within reach of the major cities in Australia.'