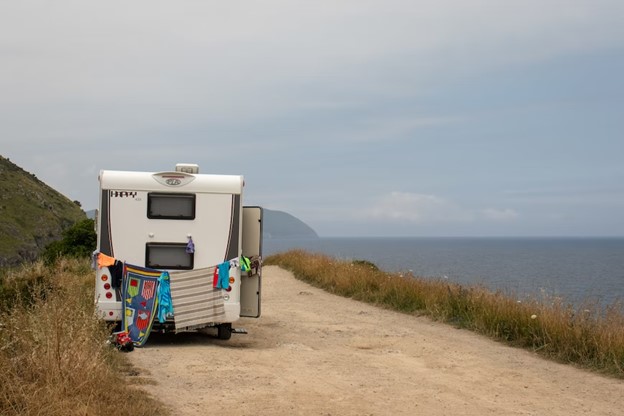 Ah, the open road, the wind in your hair, the freedom to roam and explore! A motorhome trip with friends can be a fantastic adventure that creates lasting memories.
However, before setting off on your journey, it's essential to consider several factors to ensure a smooth and enjoyable experience.
Wait, what?
Yes, it's true. As much fun as it sounds, there are some crucial considerations before revving up that engine and hitting the road with your BFFs.
But don't fret. We've got you covered.
In this article, you'll learn about the top things to consider before embarking on a wild and wacky motorhome trip with your favorite peeps.
But First Thing First, Do You Even Own a Motorhome or Campervan?
That seems like a good place to start. But don't let the fact that you don't own a motorhome or campervan stop you from going on that epic camping road trip you've always wanted to do. You have options!
Consider renting a motorhome or campervan from one of the many rental companies that offer a wide range of options, from budget-friendly basic models to luxurious motorhomes.
Invest in the best campervan solar panel for a reliable power source to ensure a comfortable and stress-free trip. Harnessing the sun's power, a solar panel provides a clean and sustainable energy source. No matter where your travels take you!
7 Things To Consider Before An Epic Motorhome Adventure With Your Besties
Ready for a rollicking good time with your buds? Just remember, before you hit the road in that motorhome, there are some things you don't want to forget! First, let's ensure you're fully equipped for the adventure of a lifetime.
1. Plan Your Road Trip Budget
The first and most important thing to consider before going on a motorhome trip with friends is budget. Before planning your trip, you should know how much you can afford to spend.
It includes the cost of the motorhome rental, fuel, food, activities, and any unexpected expenses that may arise.
Make sure you discuss this with your friends so everyone is on the same page about how much money they're willing to spend.
This will help you avoid financial disagreements and ensure everyone is comfortable with the trip budget. Here are six hacks to save money for your next holiday that can help you cut down on expenses and make your trip more affordable.
2. Length Of Your Trip
The length of your trip is another crucial factor to consider. Will you travel for a weekend, a week, or a month?
Depending on the length of your journey, you may need to plan different activities and budget accordingly.
For example, a weekend trip may only require a small budget for food and activities, while a more extended trip may require a larger budget to cover all expenses. Consider the time you have available and plan your trip accordingly.
3. Choose Destinations Everyone Will Enjoy
Where you go on your motorhome trip is also an important consideration. Do you want to visit national parks, explore cities, or visit specific attractions?
Make sure you discuss this with your friends and plan a route that everyone is happy with. This will help ensure that everyone gets to see what they want and that no one feels left out.
4. Group Dynamics
Group dynamics are essential before going on a motorhome trip with friends. Who will drive, and how will you handle rest stops and overnight stays? Who will be responsible for cooking, cleaning, and other tasks?
Will everyone be comfortable sleeping in the same space, or would it be better to rent two separate motorhomes?
These are all critical questions to consider before your trip, so you can avoid potential conflicts and ensure everyone is comfortable.
5. Food And Supplies
Chow time is the cornerstone of any successful motorhome adventure. Whether dining out at restaurants or whipping up a culinary masterpiece in the kitchen on wheels, having a plan is crucial.
Ensure you've thought out your grocery shopping strategy and accounted for any special dietary needs or cravings. And remember to stock up on all the essentials to keep the culinary engine running smoothly throughout your journey.
You can find some food and drink ideas to help you refresh while on the road on the Internet.
It can inspire you to try new and exciting meals during your trip. Bon Appétit!
6. Smooth Sailing With Communication
Embarking on a motorhome trip with friends requires clear and open communication.
Establish a seamless system for staying connected, whether it's through group chats, texts, or a shared calendar. Before starting your journey, have a heart-to-heart about any worries or queries.
It will keep everyone on the same wavelength, avoid miscommunications, and guarantee a happy and harmonious trip.
7. Be Prepared For The Unexpected With An Emergency Plan
Going on a motorhome trip with friends is about having fun and making memories, but it's essential to be prepared for any unexpected events.
What if someone gets sick, the motorhome experiences a breakdown, or the weather worsens? Ensure peace of mind by having a solid emergency plan, and ensure everyone knows what to do in a crisis.
Pack all the necessary insurance and emergency contacts, including motorhome insurance, health insurance, and a list of emergency numbers.
Remember to bring a basic first aid kit and any necessary medications. And have a plan for finding a repair shop or a safe place to stay in case of a breakdown or other emergency.
What You Need To Pack For The Trip
Before you hit the road, there's one thing you absolutely cannot forget – packing!
To ensure your road trip is nothing short of a dream come true, here's a list of everything you need to pack:
Comfort is Key: Remember, you'll spend a lot of time in a small space, so pack cozy clothes and blankets for snuggling up on chilly nights. Remember to pack a good quality pillow for a peaceful slumber.
Kitchen Essentials: A well-stocked kitchen is the cornerstone of a successful motorhome trip. Pack all the cooking utensils, dishes, and cutlery you'll need a portable stove, propane, and a cooler to store your food and drinks.
Entertainment: Boredom is the enemy of road trips, so pack plenty of games, books, and music to keep you and your friends entertained on those long drives. And remember to pack a portable speaker for some impromptu dance parties in the great outdoors!
First Aid Kit: Accidents happen, so it's always a good idea to pack a well-stocked first aid kit. Make sure it includes pain relievers, bandages, antiseptic wipes, and any other essential items you might need in an emergency.
Tools and Supplies: Whether fixing a flat tire or tightening a loose screw, having the right tools and supplies on hand can mean the difference between a minor inconvenience and a major disaster. Pack a tool kit, spare parts, and a jack for your motorhome.
Personal Hygiene: Remember to pack the essentials for personal hygiene, including toothbrushes, toothpaste, shampoo, soap, and towels. A portable shower and toilet can also be a lifesaver on a long road trip.
Outdoor Gear: Whether hiking, fishing, or simply lounging by a lake, you will want to enjoy the great outdoors to the fullest. Pack camping chairs, a camping table, a tent, and any other outdoor gear you might need for your adventure.
The Benefits Of Going On A Road Trip With Your Friends
Going on a road trip with your friends is the ultimate adventure, a thrilling and fun-filled escape from the daily grind. It's an opportunity to hit the open road, explore new places, and create memories that will last a lifetime.
Picture this: the sun shining, the wind blowing through your hair, your favorite tunes blasting through the speakers.
With the world at your fingertips, you can stop whenever you please, whether to take in a breathtaking view or sample the local cuisine.
Not only that, but road trips are a great way to bond with your friends. Long rides allow you to catch up, share laughs, and learn more about each other. You may even discover a new side to your friends that you never knew existed.
With its endless possibilities, a road trip is a perfect way to escape reality and create memories that will last a lifetime. And you might even find your next adventure on the road.
Final Thoughts
Setting off on a motorhome trip with friends is like jumping into a time machine of excitement, adventure, and cherished memories.
But before you rev up the engine, it's essential to take a moment to consider the above vital factors that can make or break your journey.
By taking the time to plan, you'll not only ensure that your trip is enjoyable but that it's stress-free for everyone involved.
So grab your keys, hop in the driver's seat, and hit the road – the open road awaits!